A unitized curtain wall system or a stick-built curtain wall system?
In the modern times, curtain wall construction becomes very popular both in commercial and residential building industry. In other words, curtain walls play a significant role in the modern curtain wall buildings for a long time. In most cases, curtain wall systems are generally non-structural aluminum-framed walls, containing infills of glass, thin stone, or metal panels that are connected back to the building structure. In the current market, there are two main categories of curtain walls: unitized curtain walls and stick-built systems. So are you wondering which one is right for your building?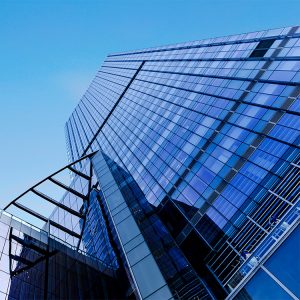 Unitized curtain systems are composed of large glass units that would be created and glazed in a factory and then sent to the construction site. Once on site, the units can then be hoisted onto anchors connected to the building. Due to tight tolerances of fabrication in a climate-controlled environment, high quality is the distinctive hallmark of unitized curtain wall system. Since there is no on-site glazing, another major benefit of using a unitized system is the speed of installation. The system can be installed in a third of the time of a stick-built system. This system is well suited for cases where there is a large volume of prefabricated unitized panels required, where there are higher field labor costs (thereby shifting the labor to a more cost-effective factory work force), where higher performance is needed such as wind loads, air/moisture protection, seismic/blast performance, especially for taller structures, and more regular conditions for panel optimization.
If your project doesn't suit most of the criteria for a unitized system, your other option is to use a stick-built system. The vast majority of low to mid-rise curtain walls are installed in this way. Aluminum curtain wall system is very popular widely used in a variety of applications today. Long pieces of aluminum (hence the name stick) are inserted between floors vertically and horizontally between vertical members to support and transfer the load of the glass back to structure. Most of the erection and glazing for a stick-built system is done on site. One of the benefits of stick-built systems is its economic friendliness for facades that have lower required volumes and many complicated conditions. The lead times for these types of systems are often much shorter for fabricated materials to be delivered to the site and allow for less up front staging. This is shorter in comparison to a unitized system, where six months to a year can be required for this process. However, the trade-off is that the installation takes longer to complete on-site. You also need a significant amount of space for installation and storage of material on the site, which can be difficult in many high-traffic cities with tight job sites. In that regard, curtain wall costs would become relatively more in your building project. Are you ready for your curtain wall building project now?
Tel: +86 18202256900 Email: steel@fwssteel.com
相关推荐