A few useful tips before starting your curtain wall construction
Nowadays, glass curtain wall has been widely used both in commercial and residential buildings. In practical applications, glass curtain wall system has many benefits in applications, such as minimizing air and water infiltration, managing wind pressure, and thermal control. However, long-term exposure to the elements can degrade the appearance and function of the building envelope. And especially glass curtain wall has a higher curtain wall cost compared with other common building systems in application. In that regard, routine maintenance is crucial for the functional and aesthetic value of your curtain walls over time.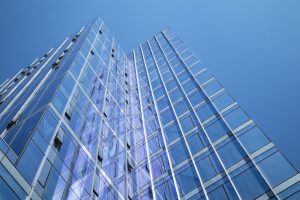 In the modern curtain wall construction, curtain walls play an important role in architecture not only to protect mid-rise and some high-rise buildings against the harshest elements, but also to improve vertical stability, especially on structures in natural disaster zones. Considering that curtain wall facades play a vital role in building construction, they can be manufactured with high-efficiency properties prescribed by the designer. And among these properties, the most important are high strength-to-self-weight ratio, serviceability requirements, recyclability of the constituent parts, as well as transparency and overall aesthetic characteristics. In addition, by applying advanced finite-element analysis schemes and taking into account structural design criteria, an optimal structural design of the glass curtain wall system has to be carried out to achieve cost minimization once structural integrity and serviceability requirements have been fulfilled.
If you would like to start a curtain wall building project now, three principal considerations have to be taken into account: performance, appearance and economy. For example, in an aluminium curtain wall system, these requirements are closely connected to the form and the position of the supporting metal structure and anchoring system to the building frame. And the curtain wall system is usually designed in a modular way, consisting of a series of prefabricated aluminium profile components and connection brackets that support the glass panels. The main vertical mullions often run along two subsequent storeys of the building, exhibiting a static system of a member with two spans. Although these systems are secondary structures of the building, they have to be effectively designed to safely resist the variable actions of wind and thermal loads acting on the building facades.
In addition, keeping regular maintenance is crucial for the functional and aesthetic value of curtain walls over time. In most cases, extensive repairs and refurbishment to a curtain wall can be difficult and expensive. Therefore, it is very important for you to choose a professional curtain wall supplier before you will implement a customized maintenance plan for your curtain walls in future.
Tel: +86 18202256900 Email: steel@fwssteel.com
相关推荐