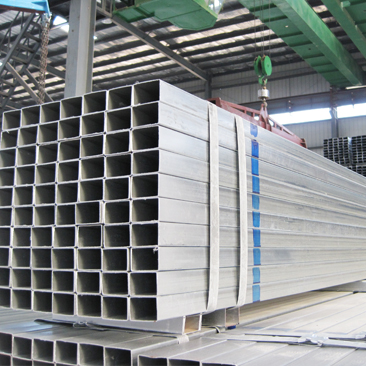 Pre Galvanized Square and Rectangular Steel Tube
TIME:2016-05-15
Brief introduction
It has been proved that the Pre Galvanized Square and Rectangular tubes made by pre galvanized sheets are giving very good durability, stability, adherence as well as a longer sustainability without atmospheric corrosion.
The surface is more smooth and brighter. It is widely used in storage rack, roofing, farm gate, decoration and so on.
These tubes are cheap, light in weight and easy to handle & transport & easy to join.
Consultation & Contact
Detailed parameters
Pre Galvanized Square and Rectangular Steel Tube
1. Material
GB/T 6728: Q195, Q215, Q235, Q345B;
ASTM A500: Grade A, Grade B, Grade C;
EN 10219: S235JR, S275JR, S355JR;
AS 1163: C250, C350, C450;
JISG 3466: STKR400, STKR490
2. Production range and sizes.
SIZE: 12.7*12.7 – 150*150 MM; 20*30 – 100*200 MM.
THICKNESS: 0.6 – 4.0 MM.
As chart above shows, we can produce these sizes ranged. And many special sizes are not listed here. So pls contact me directly if you donot find your required sizes.
3 .Standard.
Our products are produced strictly according to standard GB/T 6728.
And following standards can also be fulfilled: ASTM A500, BS EN 10219, AS 1163, JIS G3466.
4 .Length.
Common lengths have 4M, 5.8M, 6M, 8M, 11.8M, 12M and many other lengths.
Length can be customized according to customer requirement.
5. Surface Treatment:
– Oiled. Slightly oiled the pre galvanized square and rectangular tubes surface with anti-rust oil can protect the goods for long-time shipment.
– Color Painting. Normally red, white, black or many other colors. We can process according to customer required RAL number.
– Powder Coating. High qualified powder, offering stable quality and long lifetime, suitable for Australia market.
– Plain end. Direct square cut of tubes.
– Threaded, including NPT, BPT and BS 4568 thread. Coupling and plastic cap can be offered together.
6 .Package: In bundles, and wrapped with waterproof PVC cloth.
7 .Shipment: By container (20'GP, 40'GP, 40'HC) or by bulk vessel.
8 .Payment: T/T, L/C or western union.
9 .Application:
Pre galvanized square and rectangular tubes are economic, bright, light and smooth. They are widely used in solar tracker storage rack, roofing, farm gate, decoration, furniture manufacturing, and fences and so on.
10. Advantage:
Our production department are with more than 13 years experience and are highly trained for the handling and operation in production. Our company have unique anti-rust material which would be added during the water cool procedure after welding. The anti-rust material can protect the pre galvanized square and rectangular tubes well from white rust.
Our company totally have 9 production lines for pre galvanized square and rectangular tubes. This ensure all sizes can be produced quickly and stock are enough.
Pre Galvanized Square and Rectangular Steel Tube(mm)
Size
Thickness
Size
Thickness
12.7*12.7
0.6-2.0
25*75
0.7-2.5
15*15
0.6-2.0
30*50
0.7-2.5
19*19
0.6-2.5
37*57
0.7-2.5
20*20
0.6-2.5
37*77
0.7-2.5
25*25
0.7-2.5
38*76
0.7-2.5
20*30
0.7-2.5
40*60
0.7-2.5
20*40
0.7-2.5
40*80
0.9-2.5
25*38
0.7-2.5
50*80
0.9-3.0
25*40
0.7-2.5
50*100
0.9-3.0
25*50
0.7-2.5
50*50
0.7-2.5
28*48
0.7-2.5
60*60
0.9-2.5
30*60
0.7-2.5
80*80
0.9-3.0
30*30
0.7-2.5
100*100
0.9-3.0
32*32
0.7-2.5
120*120
2.0-4.0
38*38
0.7-2.5
150*150
2.2-4.0
40*40
0.7-2.5
100*200
2.2-4.0
Other sizes can be customized
The following picture demonstrates Pre Galvanized Rectangular and Square Steel Tube Details
The following picture demonstrates Pre Galvanized Rectangular and Square Steel Tube Comparison
The following picture demonstrates Pre Galvanized Rectangular and Square Steel Tube Processing
The following picture demonstrates Pre Galvanized Rectangular and Square Steel Tube Packing and Delivery
Tel: +86 18202256900 Email: steel@fwssteel.com