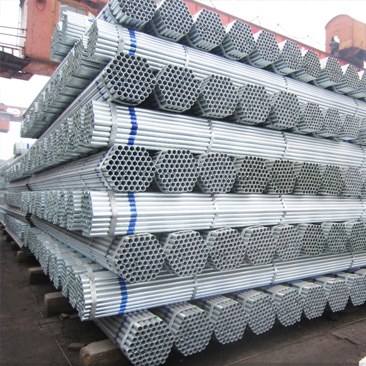 Detailed parameters
Hot Dipped Galvanized Round Steel Pipe
1.Product advantages:
Hot galvanizing has the advantages of uniform coating, strong adhesion
and long service life.Complex physical and chemical reactions take place between the hot galvanized steel tube matrix and the molten bath to form a tightly corrosion resistant zinc-ferroalloy layer. The alloy layer is integrated with pure zinc layer and steel tube substrate, so it has strong corrosion resistance.
2.Material: Q235B,Q345B,GR.AGR.B,GR.C,C250,C350,S235JR,S355JR
National standard: GB/ T3091,GB/T 6728
British standard:BS 1387,BS EN 39
American standard: ASTM A53,ASTM  A36,ASTM A500
Japanese standard:JIS G3444
Australian standard: AS 1163
3.Specifications: Size: 1/2″ to 12″,thickness: 1.0mm to 8.0mm
4.Length: the commonly used length of our company is 5.8 meters, 6 meters and 12 meters. Any length can also be customized according to customer requirements.
5.Surface and professional treatment: such as flat head, wire, oil coating, paint spraying, electrostatic spraying
6.Packaging: PVC waterproof cloth packaging
7.Mode of transportation: bulk container
8.Payment method:T/T,L/C,western union
9.Application: hot dip galvanized steel pipes are widely used in construction, machinery, coal, chemical, electric power, railway vehicles, automotive industry, roads, Bridges, containers, sports facilities, agricultural machinery, petroleum machinery, prospecting machinery manufacturing industry. Welded galvanized steel pipe with hot dip or electric galvanized layer on the surface. Galvanized steel can increase the corrosion resistance of steel tube and prolong the service life. Galvanized pipe USES is very wide, in addition to a general low pressure fluid such as water, gas, oil line pipe, also used as oil industry, especially the ocean oil field oil well pipe, oil pipe, chemical coking equipment of oil heater, the condensing, exchange of coal distillation wash oil cooler for tube, and trestle pile, mining tunnel supporting frame tube, etc.
10.Rust removal methods
 (1) firstly, the surface of steel is cleaned with solvent to remove the organic matter on the surface.
(2) then use tool to remove rust (wire brush), remove loose or inclined scale, rust, welding slag, etc.
(3) use pickling method. Galvanized is divided into hot and cold plating, hot plating is not easy to rust.
11.Technical requirements
(1) the designation and chemical composition of galvanized steel pipe shall conform to the designation and chemical composition of the steel for black pipe
(2) manufacturing method The manufacturing method of black pipe (furnace welding or electric welding) shall be chosen by the manufacturer. Hot dip galvanizing is used for galvanizing.
(3) the homogeneity of galvanized steel tube shall be tested for the homogeneity of galvanized steel tube. The steel tube sample shall not turn red (copper plating color) after being soaked for 5 consecutive times in copper sulfate solution.
(4) galvanized steel pipe with nominal diameter of less than 50mm should be subjected to cold bending test. Bending Angle is 90 °, bending radius to diameter 8 times. The sample weld shall be placed on the outside or upper part of the bending direction. After the test, the sample should not have cracks and zinc layer stripping homogeneity.
(5) water pressure test shall be conducted in the black pipe, or eddy current testing can be used instead of water pressure test. The size of the test pressure or eddy current testing specimen shall comply with GB 3092. The mechanical property of steel is an important index to ensure the ultimate service property (mechanical property) of steel.
12.Advantages of the company and products
(1) after years of painstaking research, our group has developed a passivation solution that has a longer service life than ordinary galvanized pipes, which has been well received and favored by many old and new customers.
(2) the group company has a large inventory all year round (for different materials, different caliber, different wall thickness)
(3) the inventory products of our company can be delivered within 10 working days according to the customer's demand, or according to the customer's size.
(4) free samples can be provided to domestic and foreign customers
(5) third-party testing can be provided.
(6) thegroup company always adheres to the principle, go out to raise, the company to arrange out the exhibition every year, at the same time also  allows customers to visit factory, hospitality customers and with our technical department, management and sales elite business cooperation face to  face negotiations, allows you to purchase not only the steel pipe, but also a good experience and services, and thorough understanding of steel pipe products.
Hot Dipped Galvanized Round Steel Pipe
OD
Thickness
DN
INCH
15
1/2″
1.0-2.5
20
3/4″
1.0-2.5
25
1″
1.0-3.0
32
1-1/4″
1.2-4.0
40
1-1/2″
1.2-4.0
50
2″
1.5-5.0
65
2-1/2″
1.5-5.0
80
3″
1.5-6.0
100
4″
1.5-6.0
125
5″
1.5-8.0
150
6″
1.5-8.0
200
8″
1.8-8.0
250
10″
2.5-8.0
Other sizes can be customized:
φ14, φ16, φ17.93, φ23.4, φ29.54, φ38.1, φ42.5, φ45, φ48.3, φ50.8, φ60.3 etc.
The following picture demonstrates Hot Dipped Galvanized Round Steel Pipe Details
The following picture demonstrates Hot Dipped Galvanized Round Steel Pipe Comparison
The following picture demonstrates Hot Dipped Galvanized Round Steel Pipe Processing
The following picture demonstrates Hot Dipped Galvanized Round Steel Pipe Packing and Deilvery.
Tel: +86 18202256900 Email: steel@fwssteel.com