How to start your stick-built curtain wall project?
Stick-built curtain wall is regarded as the most traditional type of curtain wall in the market. In most cases, frame verticals or mullions and glass panels are generally erected and connected piece by piece. Specifically speaking, the vertical mullions are attached first to the floor slabs and then the horizontal mullions are fixed to the vertical mullions. The glass panel between the vertical and the horizontal mullions along with the spandrel are installed into the erected grid work.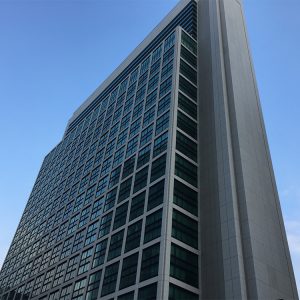 In practical applications, stick-built curtain wall is preferred to be used in low-rise buildings. Here, we'd like to have a further more introduction as follows:
*Stick-Built Curtain Wall Advantages:
a. Compared with other types of curtain wall system, the curtain wall glazing can be fabricated off-site which can decrease the installation time.
b. This curtain wall system makes designing flexible whilst permitting complex and irregular 3d surfaces to be built.
*Disadvantages of Stick-Built Curtain Wall Glazing
Stick-built curtain wall glazing has lower load-bearing capacity than other types of curtain wall glazing systems in the market. And stick-built glazing system requires more time to assemble, which needs much more construction time.
*Schedule Evaluation
Compared with unitized curtain wall system, stick-built curtain wall prefabrication method has a faster schedule in curtain wall construction. Take glass curtain wall systems for an example. The stick-built method takes three times longer than installing prefabricated panels. This is because with the stick-built method, all the construction of the panels takes place on-site. With prefabrication, all of the manufacturing takes place at an off-site facility and all that needs to be done on-site is lifting the panels into the proper location. In addition, a stick-built curtain wall system generally has a higher building budget in the building project. Because all the construction in a stick-built situation takes place on site, it presents some more problems. On-site assembly requires more workers to be on site assembling the curtain wall. The workers must assemble the metal, stone, glazing, and insulation, and then finish up with caulking.
Tel: +86 18202256900 Email: steel@fwssteel.com
相关推荐