The Challenges Associated with Curtain Wall Systems
Curtain Wall Design Challenges
While curtain walls can be extremely beneficial, they sometimes come with extra expenses and complexity. Curtain walls are most often made from high-quality, durable glass and expensive, flexible metals. Therefore, they can cost more than traditional walls made of concrete, plaster, metal, or stone. But when assembly and installation methods are factored in, curtain walls can be cost-effective. For example, unitized curtain wall design allows for off-site assembly followed by one-piece, crane-assisted installation on-site. In that regard, it can reduce the cost of labor, as fewer workers are needed to install each wall.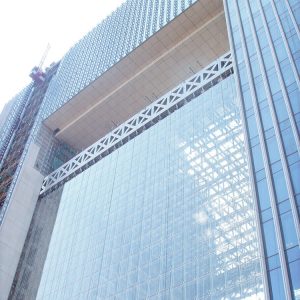 In practical applications, energy efficiency is one of the main challenges for the curtain wall design in particular. In general, there are several strategies implemented for glass curtain wall systems to achieve a better energy performance, we can classify them into two main groups, active measures like PV glass panels or Bio-energy facades that can produce energy by themselves and the passive measures like low-E glass coatings or the use of triple insulated glass units to reduce the U-value. In addition, other alternatives are the shadings like the ones mounted on kinetic facades or the design of active curtain walls where the stack effect is used to improve the thermal performance.
Another challenge of curtain wall facade system is that the process can be complex because precise lateral movement calculations must be made. Curtain walls span multiple levels of a building and must flex, as they are designed to prevent cracking when significant force is exerted on them, like an earthquake or hurricane. Furthermore, for a high-rise building, the construction process would become more complex. Nevertheless, the benefits of curtain wall design often outweigh the additional costs and complexity associated with them. Reduced energy use and added durability may decrease operational costs over time.
How to Implement Curtain Wall Design in Your Building?
Due to the complexity of curtain wall design as well as a higher curtain wall cost compared with traditional building materials in construction projects, hiring an experienced architectural firm to assist with your project is vital. Common building materials include aluminum framing, stainless steel, brick, and glass. In addition, curtain walls contain structural materials such as rubber gaskets, sealant, metal connections, and insulation to ensure that the wall doesn't compromise the energy efficiency of the building. In most cases, curtain wall systems can also be divided into two major "components":
1) Vision areas that allow light to be transmitted into the building, promoting passive solar heating and natural light.
2) Spandrel areas that are designed to conceal the building floor beams and other supporting elements in applications. These are commonly seen in multi-story office buildings. This area is generally opaque, but can be modified to be aesthetically pleasing.
Tel: +86 18202256900 Email: steel@fwssteel.com
相关推荐