Why to choose glass curtain wall for your building
Retrofitting an existing home would be considered a major project for you, for it has something with your energy expenses afterwards. Typically, if you would prefer curtain wall construction for your building, you'll need professional know-how to ensure, among other things, that your wall can bear the load from your roof and that it stays in line with energy and permitting codes in your area. In that regard, it's worth investigating your alternatives before you jump on board the curtain wall train.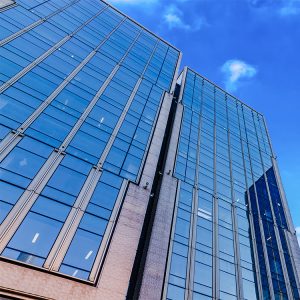 1. High Performance Features for Glass Curtain Walls
If you do believe that glass curtain walls can make the most sense for your home, building designers can integrate several efficient features that will help your wall conserve energy:
•Thermally Broken Aluminum Frames:
Although aluminum is not considered the most energy-friendly material, it is sometimes required in curtain wall designs to give them stability and structural support. In the current market, aluminium curtain wall system has been widely used both in commercial and residential applications for many years. Especially thermally broken aluminum frames are one way to improve insulation in windows. These frames are designed with a resistant barrier that makes it more difficult for heat to flow out of your home.
•Thermal Spacers:
Energy efficient windows often contain thermal spacers between the glass panes, which help their overall performance. Spacers absorb pressure when window glass expands and contracts, making the window more airtight. They also even out the temperature of the glass edges, which tends to be the coldest part of a window.
•Low-E Glass:
Low-E glass is made of a thermally reflective material that works to reflect both heated and cooled air back into home interiors, instead of flowing out through the window glass.
2. Using Glass Walls to Leverage Passive Solar Heating and Cooling
If you prefer an environmental curtain wall design, it would be a better choice for you to potentially construct a home that will actually maximize natural heating and cooling by capturing the sun's warmth—or deflecting it. It's not a one-size-fits-all formula. The type of passive heating and cooling features you choose depends a lot on your home's regional climate generally.
South-facing Window Walls:
If winter heating forms the bulk of your energy expenses, a south-facing curtain glass window helps you maximize solar heat throughout the day. South-facing walls tend to absorb the most heat due to their position—they receive the sun's light at a more direct angle. That solar heat filters into your home's interiors, which can potentially help offset some of your heating needs. Conversely, if you live in a warmer climate, it's wiser to a glass wall on the north side of your home.
Tel: +86 18202256900 Email: steel@fwssteel.com
相关推荐