How to look at hidden frame used in the glass curtain wall project
In curtain wall construction, structural glass curtain wall has gained much popularity. In most cases, curtain wall structure refers to the building peripheral protection structure or decorative structure composed of the supporting structural system and the glass, which can have a certain displacement capacity with respect to the main structure and does not share the main structure. The wall is available in single or double glazing.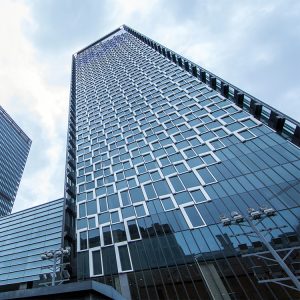 Hidden Frame Glass Curtain Wall
The structural characteristics of the hidden frame glass curtain wall are: the glass is on the outside of the aluminum frame, and the glass is bonded to the aluminum frame with a sealant. The load on the curtain wall is mainly absorbed by the sealant. In addition, the metal frame of the hidden frame glass curtain wall is concealed on the back of the glass, and the metal frame is not visible outside. The hidden frame glass curtain wall can be divided into two types: full hidden frame glass curtain wall and semi-hidden frame glass curtain wall. The semi-hidden frame glass curtain wall can be horizontal and vertical, or vertical and horizontal.
Compared with hidden frame glass curtain wall, exposed frame glass curtain wall is a glass curtain wall in which the metal frame member is exposed on the outer surface. It is framed by a special section of aluminum alloy profile, and the glass panel is fully embedded in the groove of the profile. Its characteristic is that the aluminum alloy profile itself has the dual function of the skeleton structure and the fixed glass. The exposed framed glass curtain wall system is the most traditional type of curtain wall system widely used in curtain wall construction so far. Compared with the hidden frame glass curtain wall, it is easier to meet the construction technical level requirements.
In the modern construction, the hidden frame glass curtain wall has been widely in a variety of building applicaitons due to its dexterity, lightness, transparency and structural beauty. It provides all the required functions of an external enclosure and decorative structure, which usually do not contribute to the load-bearing ability. However, with an increase of the service life, problems with the quality of the hidden frame supported glass curtain wall have attracted significant attention. Because of the effects of long-term thermal stress and environmental aging, hidden frame glass curtain walls inevitably suffer from defects such as cracks, bubbles, lamination and debonding. In particular, debonding defects are very common in aluminium curtain wall these years. Once there is a debonding defect, it may cause the curtain wall glass to fall off, which may lead to accidents and heavy property losses.
Tel: +86 18202256900 Email: steel@fwssteel.com
相关推荐