Glass curtain wall of glass ribs support
Connecting glass rib supporting glass curtain wall is one of the types of point supporting glass curtain wall, and it is an important expression method of outer protective structure in architectural design. Architects often use this form of curtain wall frame-less, concise and transparent, large span, open vision characteristics to show the charm of architectural works. The crystal clear wall makes the indoor and outdoor echo each other, and the space is integrated, so that the indoor still life and the outdoor nature are integrated. Because of the outstanding advantages of connecting glass ribs supporting glass curtain wall, it has been widely used in new buildings and is favored by curtain wall structure.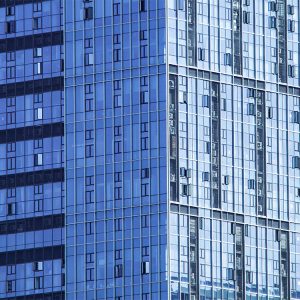 This kind of curtain wall is often found in the lobbies, shared Spaces and podium buildings of hotels, office buildings, large venues and high-rise buildings. Mostly the face of the entire building, its structure form from the single rib, double rib, to the development of multiple glass rib, from the single vertical vertical rib to the development of oblique rib, horizontal rib and special-shaped rib. Barge the use of glass rib force span, from the initial development of a few meters to more than 20 meters, even close to 30 meters. Connecting the glass ribs to support the glass curtain wall really adds color to the facade of modern curtain wall design, enriching the expression method of the building facade.
In the classification of glass curtain wall, glass rib supporting glass curtain wall is a major category of point supporting glass curtain wall. Supporting point supported glass curtain wall with integral glass rib support; There is a supporting point glass curtain wall which is connected to the integral floor plate by a plurality of glass through the connecting plate; There are vertical ground installation and the ground into a fixed Angle of the inclined glass curtain wall installation; There is also the horizontal rib connecting point of the horizontal rib installed horizontal glass curtain wall. Connectors and connection systems also vary according to the project. In glass rib of bearing point supported glass curtain wall has been found in practical application, many problems and defects, we can't avoid due to the presence of these revealed the weakness of this kind of curtain wall facade, real-time remind us in glass rib bearing point supported glass curtain wall design. Really do the force of the glass rib clear, chest, to ensure safety.
Tel: +86 18202256900 Email: steel@fwssteel.com
相关推荐