Tianjin hot dipped galvanized steel pipe is very popular around the world today
Hot dipped galvanizing is considered one of the most economical and maintenance-free corrosion protection systems available at present. As it is well acknowledged, one distinctive feature of hot dipped galvanized steel pipe used in applications is the durability, which yields decades of maintenance-free performance. Furthermore, hot dipped galvanized steel pipe can be regarded as the most favored pipe by people mainly because of its cost effective, maintenance-free corrosion protection system to ensure its lasting service for decades in the open air although the steel pipe price seems relatively high compared with other ordinary steel pipes in the current steel pipe market.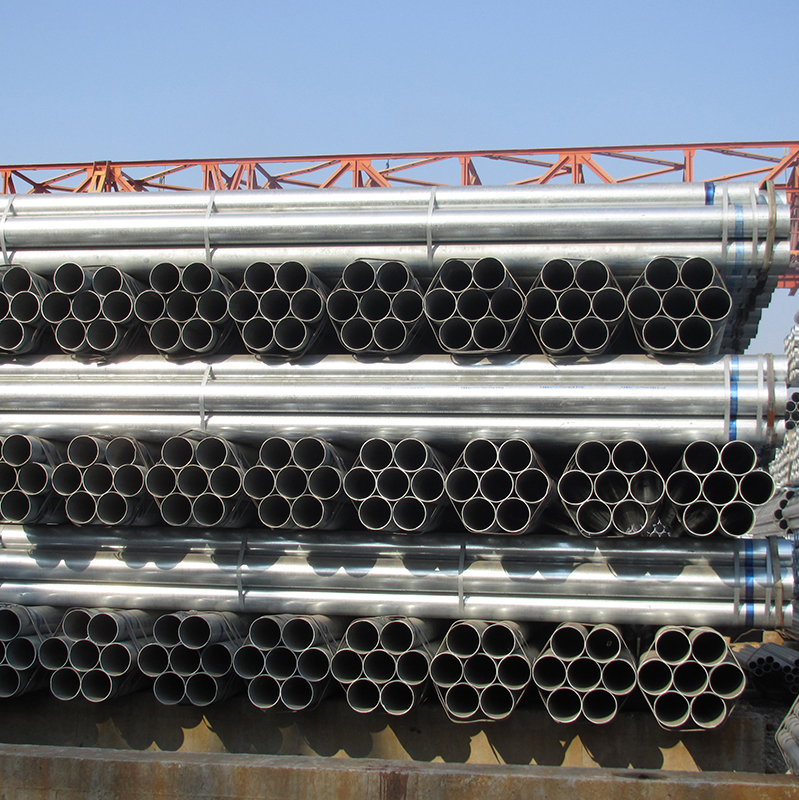 China, as one of the largest steel pipe exporters in the world, supply a great amount of steel products around the world today. Especially China hollow section tubes have been widely used structural steel materials in a variety of large building projects in the modern times. In the recent years, Tianjin hot dipped galvanized steel pipe joins the international march and make full use of its advantages to offer various specifications of steel products to customers thorough the world. Technically speaking, Tianjin hot dipped galvanization has two-fold protective nature of the galvanized coating in use. As a barrier coating, it provides a tough, metallurgically bonded zinc coating that completely covers the steel surface and seals the steel from the corrosive action of the environment. Besides, zinc's sacrificial behavior protects the steel, even where damage or a minor discontinuity in the coating occurs. For example, for certain conditions, wiring systems in buildings may be subject to frequent alterations, and frequent wiring changes are made simpler and safer by using steel conduit, as existing conductors can be withdrawn and new conductors installed, with little disruption along the path of the conduit. In most cases, galvanized coatings have proven performance under numerous environmental conditions. The corrosion resistance of zinc coatings is determined primarily by the thickness of the coating but varies with the severity of environmental conditions.
Today, with the development of society and the improvement of people's living standard, Tianjin hot dipped galvanized steel pipe has a wider range of applications in present production activities. In the meantime, People become much stricter with the performances of steel pipes. Generally speaking, there are more specified requirements of galvanized coatings corrosion resistance than of their appearance. It always seems significant for China steel pipe manufacturers to promote the technology of production as well as try to diversify the steel pipe sizes in order to cater to different needs from customers. On the other hand, with the fierce competition in steel market, customers are used to have a comparative shopping between various manufacturers to get the best one. In a certain sense, that will stimulate the steel pipe manufacturers to keep active moving and stand out from other numerous competitors in domestic market.
Tel: +86 18202256900 Email: steel@fwssteel.com
相关推荐