Stone curtain wall quality management
Strengthen the quality management in stone curtain wall engineering design
As we all know, the design level and quality of curtain wall construction to a large extent determines the construction cost and construction process of an engineering project on the whole. Scientific, reasonable and high-quality engineering design can effectively avoid design defects and engineering rework and other phenomena, which contributes to the quality control of construction engineering. For stone curtain wall decoration engineering, first of all, to carry out adequate research in the early stage of the project, complete and improve the relevant design documents within the specified time, for the existing design defects or problems, to strictly implement the relevant procedures of design change, to ensure the standardization, rationality and scientific design process; Secondly, to the stone curtain wall related construction organization design carefully audit and implementation, to ensure the safety management of the construction site, timely improve the relevant quality assurance system and technical management system; Again, for the special work involved in modern curtain wall design, there must be professional personnel for construction, that is, special work permits, qualification certificates and other documents must be complete, without one cannot.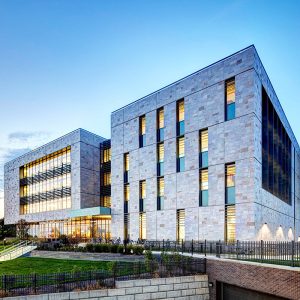 Strengthen the quality supervision of stone curtain wall in the installation process
Stone curtain wall during the installation process, due to the large area more complex, high height, size, design steps, the influence of such factors as strengthening quality control of the content is very much involved, the construction process is complicated, need for construction quality control departments to give enough attention, how to strengthen coordination and cooperation between the departments and personnel. Specifically, the key link in the construction of stone curtain wall should be paid attention to, which is an important means to effectively improve the quality of curtain wall in architectural decoration. Such as embedded bolts, lightning protection connection, welding, anti-corrosion, stone installation and glue injection quality control and other key construction links.
With the improvement of stone processing accuracy, design scheme, installation materials and construction technology, stone curtain wall will be more used for architectural decoration. At the same time, stone curtain wall is an enclosure structure system, which should not only bear gravity load, wind load, earthquake load and temperature stress, but also adapt to the impact of the main structure displacement. At the same time, it should also meet the functional requirements of sound insulation, waterproof, fire prevention, waterproof and corrosion prevention. In the construction and management of the projects of curtain wall structure, the basic procedures of capital construction must be strictly implemented to ensure the quality of stone curtain wall projects by pre-control, in-process monitoring and post-inspection.
Tel: +86 18202256900 Email: steel@fwssteel.com
相关推荐