Stainless steel curtain wall
Low-carbon green. Building energy consumption currently accounts for more than 40% of the total social energy consumption. In order to solve the problem of high building energy consumption, local governments vigorously promote green public building schemes to ensure that the energy-saving rate of curtain wall buildings after renovation is over 20%. New buildings shall adopt building energy saving measures in accordance with the provisions of these Measures and building energy saving standards.
The trend of green building will lead to more applications of stainless steel in the field of construction. Because the stainless steel plate can be recycled 100%, and corrosion resistance, has excellent appearance durability, the need for late maintenance is very low, the use of stainless steel produced by the environmental impact is almost non-existent, so it is a sustainable solution to reduce the overall carbon footprint of green buildings.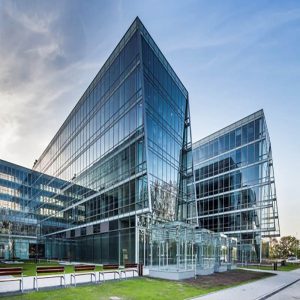 Recycled materials make up more than 85% of the product, well above the industry average of 60%. This recycling of steel significantly reduces environmental impact and improves resource efficiency.
On the other hand, the development of China's iron and steel industry is currently facing many problems: first, the rapid development of many years has led to the huge pressure of resource shortage including environment; Second, the backward production capacity of the industry is seriously excessive; Third, the lack of overall technological innovation in the industry, the lack of high-end products, the lack of competitiveness of most curtain wall manufacturers; Fourth, enterprise costs are rising, profits are falling, and even large losses, making it difficult for many enterprises to sustain their operations.
The use of stainless steel curtain walls to meet the increasing demand of China's high-rise buildings can not only alleviate the problems of the steel industry, but also further improve the energy efficiency of the building, so far, it is the perfect solution.
Curtain wall as an important element of curtain wall structure, and the architectural design of the ventilation and energy-saving( heating, air conditioning), lighting, fire protection, electric power configuration and so on all have close relations, along with the architectural design in the direction of the energy saving, environmental protection and sustainable development. The architects focus on curtain wall and requirements will be more than in the past, modern curtain wall design will also pay more attention to cooperate with architectural design. In order to better realize the design concept of internationally renowned designers, we should actively participate in the curtain wall design and material selection process. Through numerous tests, we constantly improve and optimize the relevant production technology, and strive to provide satisfactory solutions to help designers achieve creative ideas.
Tel: +86 18202256900 Email: steel@fwssteel.com
相关推荐