How to improve Tianjin galvanized steel pipe competitive power in 2019?
At present, Tianjin steel pipe enterprises are always trying to make full use of all kinds of rich resources around, as well as to combine with their own advantages so as to give full play to production activities. With the further development of society and the overall economic construction, the great expansion of galvanized steel pipe application is accompanied by a variety of requirements for different steel pipe specifications. So in the face of today's fierce market competition, it is strongly suggested that steel pipe manufacturers should not only try to produce standardized products, but also focus much attention on the market changes, and make an objective analysis, in order to keep up with the pace of economic development in modern times.
Galvanized steel pipe generally has the rational cost effective in the market. There are many different uses for galvanized steel in a number of industries. Some of the most common places that you will find galvanized steel is in residential and commercial air ducts or as the material used to create durable, long-lasting trash cans. Generally speaking, the change of the market demand structure will lead to the change of product structure. Besides, customer requirements are also constantly changing, so it seems necessary for Tianjin steel pipe manufacturers to try to constantly enrich the products per as various needs of different customers in 2019. In addition, how to make an effective adjustment to the future product structure is mainly based on the current market demand, so as to accurately grasp the immediate needs of the customers and win the first opportunity for the further development of enterprises.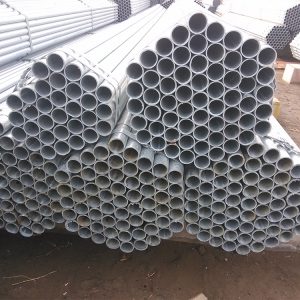 Hot dipped galvanized steel pipe has been considered popular a lot among many users today. For one thing, the galvanization process protects the steel from rusting damage that can occur during transportation, installation and service. The zinc layer on the surface of pipe can form a barrier protection for steel products to extend the service life in applications. For the other thing, this layer is also resistant to wear and scratch, which makes the steel look more attractive. However, it should not be ignored that environmental protection requirements have great influence on steel pipe price in the market. As we all know, zinc is a toxic substance and is easy to cause certain damages to the environment and the human body in the production, so it is very necessary for manufacturers to properly handle the subsequent sewage treatment work. Furthermore, each manufacturer is supposed to learn to cherish our communal home and achieve the sustainable development strategy truly implemented besides seeking their interests in 2019.
Tel: +86 18202256900 Email: steel@fwssteel.com
相关推荐