Point supported glass curtain wall
The development and application of point support curtain wall fittings show a strong vitality at the beginning, it provides a new design space for architects, which will undoubtedly promote the development and extension of building curtain wall. The main reason is that it has the stability of steel structure, the lightness of glass and the precision of machinery.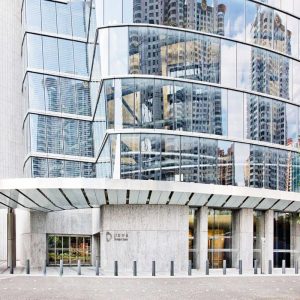 The main difference between it and general glass curtain wall fittings is:
Forms: (1) the structure of glass curtain wall fittings adopt modern structure of the computer design technology and the combination of glass technology, a new architectural space structure system; curtain wall framework is mainly composed of seamless steel pipe, stainless steel rod and stainless steel claw pieces of it in front of the glass after the Angle of a punch, with metal tubing connecting to the supporting structure of full glass curtain wall accessories. The general glass curtain wall fittings are mostly flat frame, vertical rod stress system structure.
(2) glass fixing form: the glass of point glass curtain wall fittings is fixed reliably with stainless steel claw pieces through the pre-drilled hole on the glass, and the general glass curtain wall fittings, such as fully implicit or semi-implicit are fixed on the curtain wall frame with structural adhesive.
(3) component processing: the main metal components of point glass curtain wall accessories need precision processing of drilling and stamping machine tools, batch factory production, high accuracy and good quality of site installation. And the general glass curtain wall fittings of aluminum alloy in the construction site to rely on the production of electric machinery and tools, processing slightly too rough, accuracy is not high, low efficiency.
(4) Glass varieties and specifications: Most of the glass used for point glass curtain wall fittings is low radiation or white tempered hollow glass, and it has a certain effect on solving urban light pollution, and the glass specifications are not so strict. And the general glass curtain wall fittings often use coated reflective glass, glass specifications are generally small.
Point glass curtain wall accessories from the actual use of the effect, the overall is worth affirming. I hope the above introduction can let you have a better understanding of the modern curtain wall accessories. We always adhere to customer demand as the guide, dedicated to improve the service level, in your witness, we will be better service, better quality products for the majority of customers at home and abroad.
Tel: +86 18202256900 Email: steel@fwssteel.com
相关推荐