Photovoltaic curtain wall
At present, the annual use area of curtain wall building in China breaks through 70 million square meters. If the pv curtain wall can reach 10 percent of the scale, it can produce the equivalent of 10 medium-sized thermal power plants annually and reduce CO2 emissions by about 4 million tons.
From the inside of the industry, as the vicious competition in the traditional curtain wall industry, the profit margin of the industry is diluted, and the threshold is lowered, high-end photovoltaic curtain wall has become the direction of transformation in the curtain wall industry.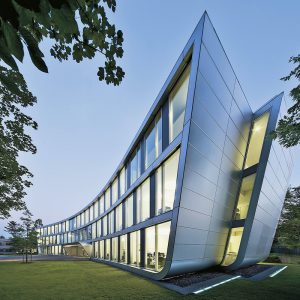 Curtain wall industry leaders have taken the photoelectric curtain wall as one of the main transformation channels. Zhuhai-based Xingye Solar has also been shifting its focus from traditional curtain walls to integrated photovoltaic building projects, where gross margins are almost double. By the end of the first half of this year, the revenue share of Industrial Solar's integrated photovoltaic building projects rose to 48.1% from 39.5% in the same period last year, according to the company's earnings report.
However, nationwide, the scope of promotion of photoelectric curtain wall is still very limited, because developers have not fully accepted the cost of photoelectric curtain wall, and the whole industry is greatly affected by the national photovoltaic subsidy policy.
Generally speaking, the cost of ordinary modern curtain wall after installing photovoltaic modules is about twice the original. In order to encourage the development of photovoltaic buildings, the government used the total investment amount to calculate the subsidy for photovoltaic buildings, and the subsidy amount was about half of the increased cost of installing photovoltaic modules on curtain walls. However, the government subsidy is also decreasing after the price of photovoltaic modules drops now. Therefore, the cost of installing photovoltaic modules for the curtain wall structure produced by China Construction is still 1,300 ~1400 yuan/square meter, and the payback period of power generation income is 15~ 16 years, so developers are not willing to choose photoelectric curtain wall for such a long payback period, and the whole industry is still relatively strong dependence on government subsidies.
The state continues to encourage the full use of solar energy in the process of urbanization development, strengthen the application of photovoltaic power generation combined with building energy conservation, and promote the integrated construction of photovoltaic buildings. However, the specific details of the support are still to be clarified by the government.
Outside the government's policy support, the curtain wall suppliers should be able to develop photovoltaic solar-thermal products as soon as possible.
Tel: +86 18202256900 Email: steel@fwssteel.com
相关推荐