The double curtain wall
With the development and construction of cities, the annual output and ownership of curtain wall building in China has ranked first in the world. In recent years, with the intensification of competition, market saturation, profit reduction, all people engaged in curtain wall industry are thinking: what kind of curtain wall does the market need? Energy-saving and environment-friendly curtain wall products will lead the future market. Double curtain wall has lower energy consumption than single curtain wall, which is a new field advocated by curtain wall enterprises in recent years. As the concept of energy conservation and environmental protection continue to gain popularity, the double-layer ventilation curtain wall brings more changes to the exterior decoration of buildings due to its good environmental protection and energy saving performance and novel structure.
Classification and characteristics of double curtain wall: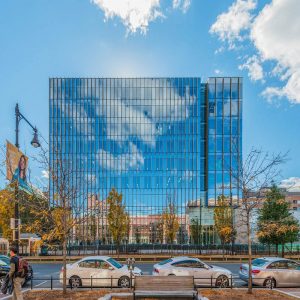 Inner circulation double curtain wall
1. The outer curtain wall adopts insulating glass and heat insulation profiles to form a closed state. The inner curtain wall adopts single-layer glass or single-layer aluminum alloy doors and windows, which can be opened.
2. because the inlet air is indoor air, so the air temperature in the channel is basically the same as the indoor temperature, so it can save the energy of heating and refrigeration, which is more favorable to the heating area.
The outer curtain wall is single glazed, with air intake at the lower part and exhaust air at the upper part. The inner point support curtain wall is made of insulating glass, heat-insulating profiles, and has a window or door that can be opened. It does not need special mechanical equipment, completely rely on natural ventilation. In summer, open the upper and lower vents for natural ventilation and cooling. Close the upper and lower vents in winter, and use solar radiant heat to enter the room through the open door or window, so as to use heat energy and reduce the loss of indoor heat energy.
3. Double curtain wall with integrated internal and external circulation
1. It is not only confined to the single circulation mode of internal circulation or external circulation, but should be more flexible and adaptable to external weather and climate conditions. It has better consideration for summer and winter, and reduces the dependence on other systems, which is beneficial to improve the comprehensive energy saving effect.
2, the channel setting is generally only for ventilation, its width is 100~300mm. If maintenance and cleaning are required, the width should be 500~900mm. For rest, view, walk its width is >900mm, and equipped with a grid.
In the face of this higher level of demand, on the basis of solid and durable curtain wall structure, more attention should be paid to the development of environmental protection, and the production of unique curtain wall products.
Tel: +86 18202256900 Email: steel@fwssteel.com
相关推荐