Situation of steel pipe industry
Although last week the overall of spot resources transaction performance is good, inventory of China hollow section tube continued to reduce, however, most of the varieties of prices have rushed to the current peak, fear of high psychological increase; the operation of shipping cashing situation will continue to increase. From the second half of last week performance, the purchase terminal wait-and-see sentiment is also gradually increased. On the other hand, as the price of steel billet rises, the spot cost increases and steel enterprises maintain a price attitude towards the market. Therefore, even though the transaction performance is a little weak, the spot profit space is limited.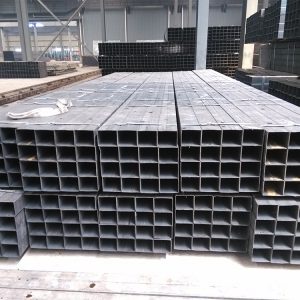 The National Development and Reform Commission (NDRC) released the key task of new-type urbanization construction in 2019, which calls for strengthening urban infrastructure construction. It is necessary to optimize the urban traffic network system, build a reasonably graded urban road network system, and strengthen the planning guidance of urban rail transit network.It is expected that the priority of China's infrastructure investment of galvanized steel pipe will promote economic transformation and upgrading, improve investment efficiency, promote new urbanization construction and other fields such as intercity transportation, logistics, municipal infrastructure, as well as energy; water conservancy and environment investment will continue to play a basic role in driving investment. Considering that the speed of the implementation of China's infrastructure projects to strengthen the short-board accelerated, China's infrastructure investment growth rate is likely to show a relatively large rebound this year, which will drive the growth of steel consumption. From the recent market, the current downstream site and industry in the traditional consumption season, the market inventory of square steel pipe continued to decline; At the same time, the recent iron ore price continued to rise, steel production costs increased significantly, steel mill sales prices are mostly stable or upward, late delivery costs rise.
Later market focus: 1. The price of iron ore continues to rise to a new high in nearly 5 years, which also drives the price of other raw materials up. Therefore, the price of steel is still supported by the rising cost of different degrees.Second, with the end of the autumn and winter production limit, the local steel blast furnace has resumed production, 100 index survey statistics from this network shows that the national sample blast furnace utilization rate: calculated by volume is 89.34% week than 1.1%, this value is about to reach the high last year.However, from the current profit of steel pipe suppliers, the profit of the long process thread reaches 500-650 yuan/ton, and the profit of the short process reaches 200 yuan/ton. Therefore, under the influence of high profit, steel enterprises are more active in chasing output, and it is expected that the supply will continue to rise in the later period.
Tel: +86 18202256900 Email: steel@fwssteel.com
相关推荐