How to look at unitized curtain wall used for high-rise buildings?
Nowadays, building facades are the first aesthetical feature of a building to distinguish one building from another. Its distinctive appearance is often the subject of controversial debate. In recent years, unitized curtain wall system has been widely used for the modern high-rise buildings and even becomes a major investment in both construction and long-term success of the high-rise building construction. Compared to reinforced concrete structure, unitized curtain wall is regarded new technology in the construction industry.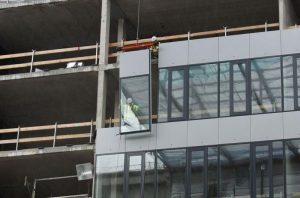 As the further development in high-rise building facade systems, modern curtain wall design has made itself more functional, providing designers with the flexibility to create high performance solutions, which are visually exciting, both internally and externally. Furthermore, major advancements in curtain wall building facade technology gives architects and specialists an opportunity to vary the appearance of the building envelope, as well as create an integrate grid system with all of their ideas, such as, windows, ventilation elements, aluminum features, etc. while maintaining a high level weather proofing. Especially, modern unitized curtain wall includes such important building components as windows wall, curtain wall, cladding panel, and etc., to form an integral part of the external envelope of the modern high-rise buildings. In that regard, it is important to ensure the curtain wall structures are properly designed, installed and maintained to provide an interesting living environment, while maintaining 'green' and safe living environment for the community.
In the modern times, curtain wall system is not just a barrier to the external envelope of the high-rise buildings, and it is crucial to the image and the perception of a building. A good curtain wall system design with excellent performance is always essential. Otherwise, it will cause large expenditure in future maintenance. In practical applications, glass plates are widely used as glazing panels in high-rise curtain wall buildings to date and it has a unique and important quality of transparency and acceptable strength. In particular, structural glass curtain wall's provision of unobstructed view to the occupants has made it highly competitive against other types of the building facades. However, the failure of glass panels is common and the direct falling of glass debris onto the street level may also cause casualties.
Tel: +86 18202256900 Email: steel@fwssteel.com
相关推荐