ultra-low emissions for steel pipe industry
At present, many steel pipe manufacturers have completed the transformation of ultra-low emission, which has reached the most advanced environmental protection level of steel enterprises in the world. The green and low-carbon development of the steel industry has the following suggestions: first, fully understand the significance of pollution reduction and carbon reduction in the steel industry under the background of double carbon target; Second, it is clear that China's steel production is large, and the emissions of carbon emissions, sulfur dioxide and nitrogen oxide particulate matter and other pollutants are still in the forefront of the national industry; Third, the reduction of crude steel output should be classified; Fourth, the transformation of enterprises to ultra-low emissions must stand the test of time and history.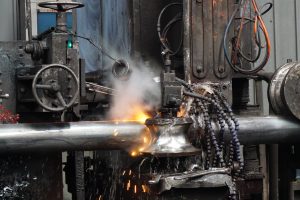 Carbon emission and pollutant emission, for the steel industry is a process of the same root and homology, but also the synergistic process of pollution reduction and carbon reduction. We should focus on structural optimization and adjustment from several aspects in order to achieve real pollution reduction and carbon reduction. First, to optimize the industrial structure and layout, the most important thing is to consolidate the achievements of reducing excess capacity of round steel pipe, strictly implement the relevant requirements of capacity replacement; Second, optimize the process structure, improve the proportion of short process; The third is to optimize the charge structure, how to improve the proportion of ore use is the next key research direction; Four is to form a closed loop of the industrial chain, industrial chain dispersion will cause the loss of energy consumption; Fifth is to adjust the energy structure and focus on regulating their own power plant of China steel tube manufacturer.
To promote the high-quality development of the steel industry, we must consistently give full play to the positive role of the market in allocating resources, and give better play to the guiding role of the government, deepen the supply-side structural reform of the steel industry, and consolidate the achievements in the process of upgrading and resolving production capacity. First, we will continue to consolidate our achievements in reducing excess steel production capacity, strictly prohibit new production capacity, and maintain zero tolerance and high pressure for violations of laws and regulations in steel production capacity. Second, we will promote mergers and restructuring and optimize the layout of the steel industry. In mergers and reorganizations, the government should create a fair, just and open market environment for the rectangular hollow section; In terms of optimizing the layout, the government will further strengthen macro-guidance in accordance with the needs of regional economic development and environmental carrying capacity. Third, accelerate the green and low-carbon transformation of the steel industry.
Tel: +86 18202256900 Email: steel@fwssteel.com
相关推荐