Curtain Wall vs Window Wall
Making a decision between curtain wall and window wall can be tricky due to the many variables that should be considered for building envelope systems. As a matter of fact, there is a lot to take into consideration when people want to select a glazing system in the building construction. And the right solution could shift based on the building structure design. Specifically speaking, curtain wall differs from other large-scale glass installations like storefront and window wall in size, application and drainage methods.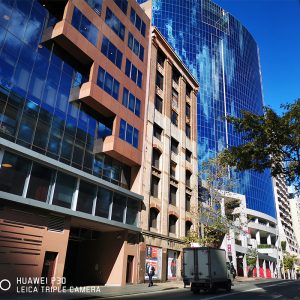 Curtain Wall
In practical applications, unlike window wall, which sets units of glass within the structural components of the walling, curtain wall windows are suspended over the building's structural elements, providing cover, but no support. Because of this, each unit is longer than a window wall unit – 14 feet or higher and extends beyond the length of one floor. Curtain wall units are also taller than the typical storefront unit, which generally measures 10-12 feet in height. Apart from that, curtain wall can be applied over any story of a building, while storefront is only installed along the bottom floor, and window wall can only be set at the second story or higher. And unlike storefront and window wall systems, which channel water across the horizontal and vertical perimeter of the installation as a whole, each unit in a curtain wall system drains individually. In that regard, curtain wall is advantageous, as it distributes water across a broader surface, which reduces wear and tear.
Glass curtain wall can be a costlier option than window wall, although there are other factors that need to be considered. Curtain wall is highly durable and does not require a lot of long term maintenance. In addition, since unitized curtain wall systems are fabricated in a controlled shop environment, fewer man hours in the field are required which helps achieve more stringent schedules. The savings associated with labor efficiencies in the shop and field often dispel budget concerns when it comes to evaluating the cost of unitized curtain wall compared with other systems.
Window Wall
Unlike curtain wall, window wall sits between the floor slabs. Like unitized curtain wall, window wall is also built in a shop and shipped to the site pre-assembled. Units are anchored at the head and sill and sealed in place using caulking. Window wall is also non-load bearing. Since window wall sits between floor slabs, fire-stopping is not necessary. This also means noise transmittance can be less of a concern than with curtain wall in specific instances. In practical applications, on its own, window wall can typically span a floor to floor space of up to 12 feet. Beyond that, the vertical mullions will need to be loaded with steel to increase structural strength. Installation of window wall can be done from the exterior or interior and really depends on demands of the project.
In addition, aesthetics of window wall differ greatly from curtain wall. Architects need to consider how the exposed slab edge will be addressed in the design stage of a project. There are some very creative ways to work metal panels into the facade to cover the slab edge and integrate into the window wall system. There are some window wall systems that can replicate curtain wall on a small sale, but nothing comes close to achieving the same continuous look as a curtain wall system on large scale facades.
In short, due to its robustness, curtain walls provide excellent protection against harsh elements, such as high wind loads, earthquakes, and can handle larger glass sizes compared to window walls. The entire process is complex and is more expensive than other glazing systems. Depending on the design intent, window wall may not be an option. For example, if your project is a 40+ story building and you want a continuous exterior glass facade, window wall is not the best choice. In terms of cost per square foot, curtain wall cost would be generally higher than window wall cost in building construction project. Window wall also has a high quantity of caulk of joints which can lead to long term maintenance expenses.
Tel: +86 18202256900 Email: steel@fwssteel.com
相关推荐