What are the Pros and Cons of Curtain Walls?
Curtain wall is a protective wall affixed to the outside of a building to protect the structure. During medieval times, curtain walls were one of the most important defense structures used in protecting castles, and today they serve a more basic protective purpose. What are the pros and cons of curtain walls? Although curtain walls provide architectural and possibly energy efficiency benefits, they still have their disadvantages. For example, curtain walls tend to have a drastically increase in the cost of construction and maintenance.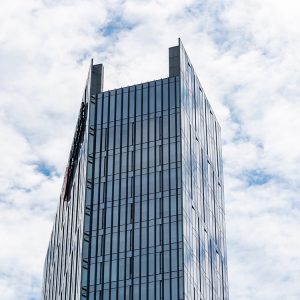 Benefits of Curtain Walls
It's similar to putting a curtain inside the home to cover the window. The curtain will prevent some of the heat and light coming into the house. This results to thermal efficiency (savings on air conditioning) and glare reduction. The result will be more comfortable to the body and pleasing to the eyes. Take glass curtain wall for an example. The curtain wall glazing makes glass available in large uninterrupted areas to create consistent attractive facades. Furthermore, the use of glass as the curtain wall has the advantage of allowing natural light to penetrate deeper within the building. Specifically speaking, there are four major benefits as follows:
1) Can be used either to block light or allow light to penetrate deeper into the building (glass materials enable this)
2) Provide additional sound insulation from the outside of the building
3) Reduce water and moisture penetration into the building
4) Providing a unique and more elegant look to the building facade
Disadvantages of curtain walls
As we all know, curtain wall price is generally higher than other traditional building materials' price in the market. And additional costs associated with building and maintaining are relevantly higher in building projects. For instance, curtain walls require additional glass and steel for completion. These materials can become vulnerable against weather elements (rusting, mineral deposits, stains). As a result, they require regular maintenance to keep their aesthetic value intact. In addition, curtain wall costs may further increase due to additional requirements (e.g. reducing heat transmittance by a certain percentage). Furthermore, curtain walls can be a major cause of project delay. The installation of these structures may be delayed by unfavourable weather conditions. This could in turn lead to additional costs on labour and manpower.
In short, despite the disadvantages mentioned above, curtain wall facades serve as the design focal point of buildings. Furthermore, they could contribute to energy savings (lighting and air conditioning) in the long run.
Tel: +86 18202256900 Email: steel@fwssteel.com
相关推荐