A few distinctive benefits of curtain wall facade systems in applications
In the modern buildings, curtain wall facade is generally regarded the element that completes the overall form of buildings, which can express their character, and also play an important role in the energy savings of buildings. For example, structural glass curtain wall enables glass to be used safely in large, uninterrupted areas of a building so as to create consistent, attractive facades. The variety of glass products available today allows architects and designers to control every aspect of aesthetics and performance, including thermal and solar control, sound and security, as well as colour, light and glare.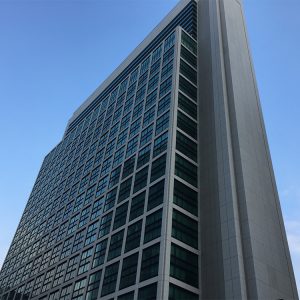 In practical applications, curtain wall systems are structural essentials of the modern construction, which act as a divider between the interior and exterior setting of the building. Meanwhile, curtain wall systems can render structural stability and play an active role in load transmission. It transmits a load that is induced by the wind to the fundamental structure. In the current market, there are two typical curtain wall systems widely used in a variety of building applications as follows:
1. Stick wall systems:
For this type of curtain wall system, the fundamentals are installed piece by piece on the building structure. This wall system is popularly used for low-rise buildings. This system has a lot of flexibility and allows much space for onsite alterations.
2. Unitized wall systems:
For this kind of curtain wall system, the parts are pre-assembled inside the manufacturing unit. The size of the walls is directly proportional to the floor size and height. These systems are used in high rises and do not require external supports. During transportation, these wall systems need better and more extensive protection; thus, the shipping charges would be a litter higher.
Benefits of Curtain walls Facade Systems in Applications:
Nowadays, modern curtain wall designs are widely applied in the modern commercial buildings around the world, which are generally made of glass, stone, or metal with a few distinctive benefits in applications.
1. Keeping water and air out
In most cases, curtain wall facade systems are efficient in preventing air and water infiltration, acting as insulators, and a buffer. The construction that uses curtain walls would be easier to maintain and will have more longevity due to the extra protective shield.
2. Thermal efficiency:
Curtain walls enhance the thermal efficiency of the buildings when it is properly glazed and treated in construction. These panels can stabilize the inside temperature cutting down the operational costs of the construction. Besides, the extra glazing can reduce the UV rays, and this prevents the buildings from degrading.
3. Fire resistivity:
Fire rated curtain walls are fire-resistant, whose panels can slow down the spread of fire. It acts as a barrier and helps them to control the fire so that the fire is not spread across the building surface.
Tel: +86 18202256900 Email: steel@fwssteel.com
相关推荐