How to look at curtain wall systems in the modern building projects
In the modern times, curtain wall systems have made great progress in a wide range of building projects in the world as the curtain wall is the most airtight and weather resistant cladding and exterior wall system available in construction field today. Generally speaking, the curtain wall is characterized with colored vision and spandrel glass areas, a grid of aluminum caps and most recently with metal or stone spandrel covers. In some particular buildings, it is also combined with other types of cladding systems such as precast, brick or stone to create attractive and durable building facades.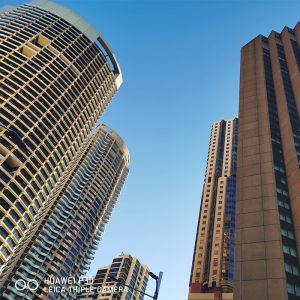 In common building projects, curtain wall comprises a complete cladding and exterior wall system with the exception of the indoor finishes. In the current steel pipe market, structural steel pipe has been widely used as structural frames in the glass and aluminum curtain wall in many new buildings in some big city centers. And this type of curtain wall system is quite popular as a cladding and exterior wall on all types of commercial, industrial, institutional and residential buildings. In recent years, more and more building owners, designers, architects, and general contractors have opted for gi square steel pipe in commercial construction projects over other materials mainly for its energy efficiency, low maintenance, and durability. In addition, unlike other structural steel materials, gi square steel pipe is immediately ready for use when it is delivered. No additional preparation of the surface is required, no time-consuming inspections, additional painting or coatings are needed. Once the structure is assembled, contractors can immediately begin the next stage of construction without having to worry about the galvanized steel materials.
In most cases, curtain wall is generally assembled from aluminum frames, vision glass and spandrel glass panels to enclose a building from grade to the roof. Mild steel pipe is very popular type of structural products which has been widely used in glass and aluminum curtain wall because mild steel pipe has a variety of good performances in use, such as resist wind and earthquake loads, limiting air leakage, controlling vapour diffusion, preventing rain penetration, prevent surface and cavity condensation and so all. Moreover, mild steel pipe is highly resistant to shock and vibration. Fluctuating water pressure or shock pressure from a water hammer have little effect on steel.
DongPengBoDa Steel Pipe Group is a famous steel pipe manufacturer in China. We are committed to supplying various types of structural steel products for your choice in building projects. Please contact us if you have any need in your next project.
Tel: +86 18202256900 Email: steel@fwssteel.com
相关推荐