Adapt to the new normal of environmental protection
Taking advantage of the new technological revolution, we will take the road of green wisdom and environmental protection. At present, the world is in a new round of technological and industrial revolution, the Internet of Things, big data, cloud computing and other new technologies are deeply integrated with all walks of life, the steel industry should take this opportunity to promote its own green transformation. First, speed up the green and low-carbon transformation process of the rectangular hollow section industry, and develop smart and low-carbon manufacturing and logistics. The second is to use digital, networked and intelligent means to carry out real-time monitoring, data analysis and optimization processing of energy conservation and emission reduction of enterprises, so as to make the data transmission of environmental protection indicators more convenient and accurate.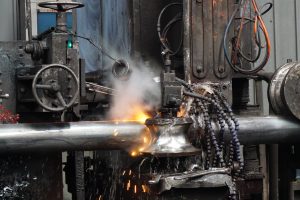 Expand financial channels and tap the potential of carbon finance. Steel enterprises often need a large amount of capital investment when they carry out green transformation, which brings huge financial pressure, which requires the continuous power of carbon finance. One is to provide a variety of financial services. In addition to green credit, explore and develop different forms of financial services such as carbon leasing, carbon trust, carbon insurance, and contract energy management. Second, give play to the guiding role of carbon finance. Preferential credit will be given to steel pipe company with good environmental protection reputation, and on the contrary, measures such as no loans or loans can be taken. Third, adopt the new model of supply chain finance to serve the whole industrial chain and the whole life cycle of the steel industry.
We will strengthen capacity building and cultivate green talents. The green transformation of iron and steel industry cannot be separated from a number of high-level environmental protection implementers and promoters, which requires strengthening the cultivation of relevant talents of China hollow section. First, pay attention to the cultivation of environmental protection ideas, enterprise managers should strictly adhere to the ecological pollution is the untouchable red line, to internalize the concept of environmental protection in the mind, externalize in the practice. Second, focus on cultivating green skilled personnel, strengthen environmental management capacity building of enterprises, flexibly use modern, information and intelligent means, and steadily improve the ability and level of green manufacturing of enterprises through self-monitoring and self-management.
We will improve institutional supplies and action plans at all levels. The green transformation development of the iron and steel industry should take the system as the leader and the action guide, and constantly improve the system of mild steel tube China. Formulate a carbon neutral action plan for the steel industry to achieve carbon peak, and make a good green layout.
Tel: +86 18202256900 Email: steel@fwssteel.com
相关推荐