Galvanized steel pipe performance in applications
In the current steel pipe market, galvanized steel pipe has two categories: pre galvanized steel pipe and hot dipped galvanized steel pipe. Pre-galvanization is also known as mill galvanized, due to the fact that the steel sheet is rolled through molten zinc. After the sheet is sent through the mill to be galvanized it is cut to size and recoiled. With regard to hot dipped galvanized steel pipe, the galvanization process protects the steel from rusting damage that can occur during transportation, installation and service. The zinc layer on the surface of pipe can form a barrier protection for steel products to extend the service life in applications. For the other thing, this layer is also resistant to wear and scratch, which makes the steel look more attractive.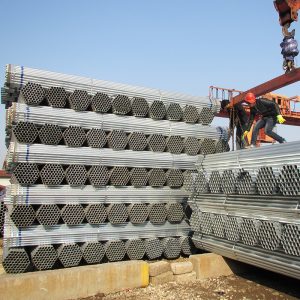 Today, galvanized steel pipe is widely use in the applications, such as indoor and outdoor atmospheres, the storage of hundreds of different chemicals, in fresh water, sea water, soils, concrete, and/or in conjunction with other metals, treated wood, or extreme temperatures. Some of the most common places that you will find galvanized steel is in residential and commercial air ducts or as the material used to create durable, long-lasting trash cans. If you choose a galvanized pipe, you can avoid the cost of maintaining and replacing corroded pipes. With galvanized pipe, your pipes can last a lot longer than a non galvanized one, which will save you a lot of money in the project. Technically speaking, the zinc of the hot dipped galvanized coating is more corrosion resistant than the bare iron and steel. On the other hand, the performance of hot dipped galvanized steel varies from environment to environment.
In the modern times, Galvanized steel pipe, as one of popular structural steel pipes in use, generally has the rational cost effective in the market. Architects and designers take advantage of galvanized steel pipe to let their artistic imaginations run wild, as well as to design and construct a building that is both safe and resilient. This same durability is also what allows for the versatile design of large, clear span buildings such as airplane hangers, warehouses, agricultural buildings and indoor arenas. Unlike other structural steel materials, galvanized steel is immediately ready for use when it is delivered. No additional preparation of the surface is required, no time-consuming inspections, additional painting or coatings are needed. Once the structure is assembled, contractors can immediately begin the next stage of construction without having to worry about the galvanized steel materials.
Tel: +86 18202256900 Email: steel@fwssteel.com
相关推荐