Steel prices and mill profits are expected to rebound
After a period of volatility and uncertainty, the steel industry is poised for a rebound in both prices and mill profits. The global steel market has experienced significant fluctuations in recent times, influenced by various factors such as supply and demand dynamics, trade policies, and the overall economic landscape. However, industry experts and analysts are optimistic about the future, projecting a positive turnaround for steel prices and mill profitability. One of the key drivers behind the expected rebound is the recovery of the global economy. As countries emerge from the challenges posed by the COVID-19 pandemic, economic activities are gradually returning to pre-pandemic levels. This resurgence in economic growth fuels demand for zinc coated steel pipe in infrastructure projects, construction activities, and manufacturing sectors. Increased demand, coupled with improving consumer confidence, is expected to push steel prices upward.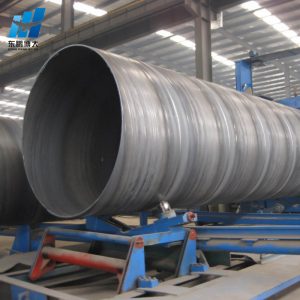 Moreover, governments worldwide are implementing large-scale infrastructure development plans to stimulate economic growth and job creation. Infrastructure projects require significant quantities of steel, further bolstering demand. Initiatives such as the United States' proposed infrastructure investment plan and China's Belt and Road Initiative are expected to drive steel demand and support price recovery. Supply-side factors also contribute to the projected rebound in steel prices. During the pandemic, many steel mills temporarily reduced production or even shut down operations due to decreased demand and supply chain disruptions. As demand of API 5L Spiral Pipe picks up, steel manufacturers are ramping up production to meet the increased requirements. However, this recovery in production is expected to be gradual, leading to a more balanced supply-demand scenario and upward pressure on steel prices.
Additionally, the implementation of trade policies and measures to safeguard domestic steel industries has affected global steel supply chains. Tariffs, quotas, and anti-dumping duties imposed by governments aim to protect local steel producers but can disrupt the global steel trade. These protectionist measures, coupled with uncertainties surrounding trade relations, have contributed to market imbalances and price fluctuations. As countries navigate these trade challenges and work towards more stable trade environments, cold rolled steel pipe prices are expected to stabilize and recover.
The anticipated rebound in steel prices has positive implications for mill profits. Steel mills faced margin pressures during periods of low prices and reduced demand. However, as prices recover, mills can benefit from higher selling prices, improving their profitability. This, in turn, allows steel pipe manufacturers to invest in research and development, upgrade equipment, and implement sustainable practices, further enhancing their competitive position in the market.
Tel: +86 18202256900 Email: steel@fwssteel.com
相关推荐