How to fix the curtain walls in applications?
So far, curtain wall has become an enduring staple of the modern building design since its introduction almost 100 years ago. And its popularity continues today in the 21st century. In practical applications, curtain walls are typically constructed by lightweight glass, along with other materials like aluminum or other metals, stone, marble, and composite materials. They are designed with numerous factors in mind, such as minimizing air and water infiltration, managing wind pressure, and thermal control. Meanwhile, routine maintenance is crucial for maintaining the functional and aesthetic value of your curtain walls over time.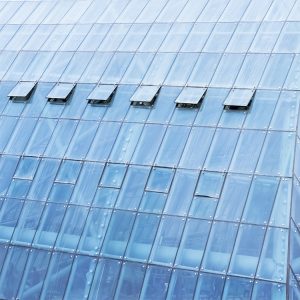 As damage to curtain wall facades often happens gradually instead of all at once, it can be tempting to neglect routine maintenance and wait until a significant failure occurs, or in response to the loss of beauty over time. In general, a long-term exposure to the elements tends to degrade the appearance and function of the building envelope like:
1. Fading or peeling of metal frame finishes
2. Staining of glass or metal
3. Etching of glass or metal
This kind of damage can be exacerbated by improper surface preparation from the original installation and coating of the wall. Further degradation from pollutants ranging from deicing products to exposure to salts and the constant attack of air pollution can also accumulate over time.
Considering that extensive repairs and refurbishment to a curtain wall can be difficult and expensive, a proactive and ongoing maintenance plan can reduce the risk of those bigger headaches. Specifically speaking, a good maintenance plan should include routine inspection, regular cleaning, prompt repair of minor problems, and written records of maintenance activity to keep you on track. Of course, it is necessary for you to find a professional curtain wall supplier to develop and implement a customized maintenance plan for your curtain walls. In addition, curtain wall facade should be considered as part of exterior envelope maintenance. Because deterioration in one building system can adversely have certain impact on other building systems, any program of facade maintenance and repair must be integrated into a larger plan for the building envelope as a whole. Sometimes, observable conditions, like leaks, may appear in the wall area but have a distant source, such as a faulty roof flashing. With regard to glass curtain wall systems, in addition to removing years of accumulated damage to glass and other curtain wall materials, proactive maintenance will preserve the beauty and value of your building envelope, and save you money over the long haul, along with appealing to existing and potential tenants.
Tel: +86 18202256900 Email: steel@fwssteel.com
相关推荐