Curtain Wall Building:The Trademark of the Modern Cities Nowadays
If you are seeking for the best aesthetics of your building, curtain walls can contribute a lot as these walls made up of aluminum and paired with glass can give an attractive and impressive look to your building, which could easily attract the visitors. In particular, modern curtain wall designs can enhance your brand image and give professional look to your building which can impress the potential business clients and customers. As it is well acknowledged, people tend to judge a building facade in the same way people judge a book by its cover. In many cases, the building facade is the first thing you see before entering a building. In that regard, building facade design plays an important role in the overall appearance of the modern buildings today.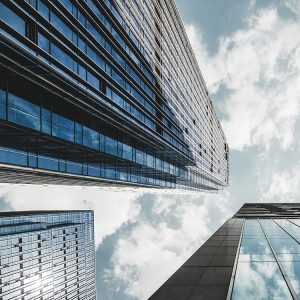 Generally speaking, curtain wall attaches to the outside of the floor slabs, acting as a "curtain" that is literally hung on the building and therefore, non-load bearing, which spans slab to slab. Especially when glass curtain walls replaced masonry construction in commercial buildings, the depth and reach of light penetration improved, reducing the need for artificial lighting and consequently, cutting down on lighting bills. Furthermore, In other words, curtain walls can both set the tone for a building and play important engineering roles in the modern curtain wall construction. For example, in the modern times, commercial curtain walls are now the hallmark of contemporary city skylines, used to achieve a host of purposes, like energy-efficiency, transparency, designing flexibility and so on. And the most notable advantage of commercial curtain walls is their pretty beautiful appearance in applications. In particular, aluminium curtain wall offers a sophisticated look, which significantly enhances its visual attractions in some large famous commercial buildings around the world today.
In a word, curtain wall buildings are regarded the business card of the modern cities, in particular for some famous commercial buildings around the world. In other words, the lobby gives a first message of prestige to its visitors who are entering the building. Therefore, it is no surprise that architects and designers accurately select and define materials for these areas. In recent years, with the continuous development of modern economy, curtain wall facade systems are widely used in commercial buildings for many different purposes. Compared to reinforced concrete structure, curtain wall structure is not just a barrier to the external envelope of building, it is also crucial to the image and the perception of commercial buildings.
Tel: +86 18202256900 Email: steel@fwssteel.com
相关推荐