The steel industry is shifting from high profits to reasonable ones
Since 2019, the downward trend of steel industry is obvious. Data show that from August 19 to August 23, the steel index closed at 3960 yuan/ton on Friday, flat on the week.Data monitored by the spot trading platform showed that as of August 23, the average price of 25mm grade 3 rebar in 61 major markets across the country was 3951 yuan/ton, down 35 yuan/ton month-on-week. In the whole of August, the social inventory of 5 kinds of steel such as rectangular hollow section in 20 cities increased more than that in July, among which rebar and hot-rolled coil increased more. Total inventories in August totaled 14.02 million tons, up 1.31 million tons month-on-month, up 10.3%; Among them, the total stock of steel in the market was 13.15 million tons, up by 11.0% with a sequential increase of 1.3 million tons, and the stock in the port was 870,000 tons, up by 10,000 tons, up by 1.0%.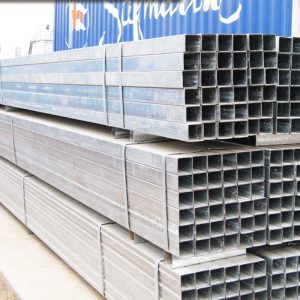 2018 is the "spring" of steel enterprises; steel prices jumped to a high, the company's performance is mostly beautiful. However, in the first half of this year, due to the squeeze at the cost end, the performance of steel enterprises generally fell. On the evening of August 22, a number of steel stocks of mild steel tube reported a semi-annual report, with net profit falling at about 40% year on year. Rising raw material prices, weak downstream demand and environmental pressures have made life difficult for steelmakers in the first half of the year. Steel prices started to rise in 2016, rose rapidly in 2017 and rose steadily in 2018. According to the price monitoring center of the national development and reform commission, the average price in major steel wholesale markets was 2,901 yuan/ton in 2016, 4,145 yuan/ton in 2017, and 4,531 yuan/ton in 2018, up 5.2 percent, 42.9 percent, and 9.3 percent respectively over the previous year.
Second, industry profits of hollow section manufacturers have also risen sharply. Data released by cisa showed that in 2015, its member enterprises lost more than half of their profits, while in 2017 they made a profit of 177.3 billion yuan, and in 2018 they made a profit of 286.27 billion yuan.Third, the industry deleveraging has achieved some results. According to cisa data, the asset-liability ratio of cisa enterprises was about 65 percent in 2018, down about 5 percentage points from 2016. In addition, the reduction of excess capacity and cleaning up the steel floor has also achieved tangible results, the steel industry supply and demand has also become reasonable. Data from the price monitoring center showed that the average price of steel tube China in the first half of 2019 was 4,365 yuan/ton, down 95 yuan/ton from the same period in 2018. Meanwhile, profits in the steel industry fell in the first half of 2019 due to rising raw material costs.
Tel: +86 18202256900 Email: steel@fwssteel.com
相关推荐