The control of steel pipe export
The first, controlling a large number of steel exports is the need to achieve "double carbon". A large number of imported iron ore to produce mild steel tube and a large number of exports will leave carbon emissions in China. In the previous 8 months, 48.1 million tons of steel was exported and 1.8 tons ~2 tons of carbon dioxide were produced by producing 1 ton of steel. Carbon dioxide alone increased emissions by 87 million tons ~96 million tons, which undoubtedly increased the difficulty of carbon reduction in the steel industry.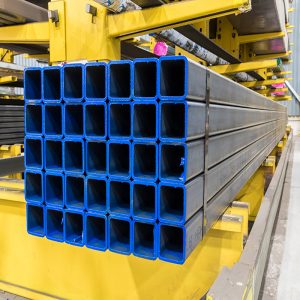 The second is the need to achieve "dual control". Steelmakers' willingness to export has been strong since the start of the year as prices in overseas steel markets have been significantly higher than at home. Data from the General Administration of Customs shows that from January to July this year, China exported 5.24 million tons of rectangular hollow section, 4.9 million tons, 7.54 million tons, 7.97 million tons, 5.27 million tons, 6.46 million tons, 5.67 million tons, year-on-year growth of 20.0%, 42.4%, 16.5%, 26.2%, 19.8%, 74.5%, 35.8%. So, this year the country restrains the direct export of steel. In particular, after the adjustment, the domestic export tax rebates of 169 tax numbers of steel products have been cancelled since August 1, the export tax rebate rate is all reduced to 0, and the export tax rebates of domestic steel products are no longer enjoyed. The national policy guidance on steel import and export has been very clear. Under the dual constraints of resource bottleneck and environmental pressure, a large amount of direct metal pipe export is not encouraged, and the main purpose is to meet domestic demand. To this end, China Iron and Steel Association on August 18 also released the steel industry export self-discipline initiative, calling on steel enterprises to correctly grasp the policy guidance, strengthen export self-discipline, consciously control the export volume, jointly maintain the export order. If the next 4 months to maintain the August 5 million tons of steel exports, steel exports this year will exceed 68.1 million tons, much higher than the 53.67 million tons in 2020. Therefore, the last 4 months of steel exports must be significantly decreased year-on-year, in order to ensure that the annual steel export volume is flat or even down, so as to smooth the realization of the "dual control" target escort.
The third is the need to build a new development pattern. We need to ensure the supply of circulation within the steel industry in China, meet the demand of domestic steel products such as zinc coated steel pipe, support the great mission of the national economic development, which is also the necessity of developing low carbon green and high quality.
Tel: +86 18202256900 Email: steel@fwssteel.com
相关推荐