Plastic greenhouse's pros and cons in applications
Plastic greenhouses were introduced in China around 1970. In China, the vast majority of plastic greenhouses are used to raise vegetables under controlled conditions. They also serve as growing season extenders. As everything has two sides, we would like to talk about plastic greenhouse's pros and cons in applications today.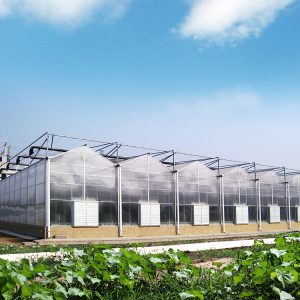 In general, a plastic greenhouse consists of one or two layers of clear plastic sheathing stretched over a light-weight frame that can be made of plastic, galvanized steel pipe and even wood. In most cases, plastic greenhouses can help conserve water with the use of drip irrigation which puts water directly into root zones and results in less evaporation. Plastic covers can help condense transpired water for reuse. Meanwhile, plastic greenhouses can protect soils from erosion and help reduce dust storms, said the researchers. In addition, plastic greenhouses help conserve land, increase income for farmers and can help alleviate poverty in developing countries because the plastic houses are relatively cheap and easy to be constructed and maintained than glass greenhouses which require sturdy permanent frames and sometimes foundations.
But all is not rosy with plastic greenhouses. Such houses can lead to more carbon dioxide and nitrous oxide emissions than conventional field ground operations because more construction materials such as steel, plastics and pesticides are used. Plastic greenhouses also have a direct cooling effect as the plastic increases surface albedo and then there is the waste plastic left behind when the houses are taken down—the thin plastic does not lend itself to recycling. Plastic houses also have high humidity which can promote plant diseases and an environment that encourages insect populations, leading to the use of more pesticides.
In a word, plastics have transformed the greenhouse industry from the advent of cost-effective irrigation systems to the development of cheap glazing. Whether you decide that a glass or a plastic-covered greenhouse would be best for your needs, there are fantastic options for either choice. Keep in mind that both have their pros and cons though, so purchase what fits your needs as well as your budget in a project. Dong Peng Bo Da Steel Pipe Group is a famous steel pipe manufacturer in China. We are committed to producing various types of steel products for your choice in your greenhouse project in future. Our products are all designed for the fast and easy installation in applications. Contact us if you have any need in your project.
Tel: +86 18202256900 Email: steel@fwssteel.com
相关推荐