Benefits of Curtain Wall Facades
In the past, earlier building methods relied on exterior walls to carry the dead weight of the roof and other features. Sturdier columns with greater load bearing capacity formed the building's support systems as steel and reinforced concrete became standard materials in the industry. With walls no longer required for primary structural support, builders began using materials other than traditional stonework. There is no doubt that curtain wall facades give rise to modern curtain wall buildings today.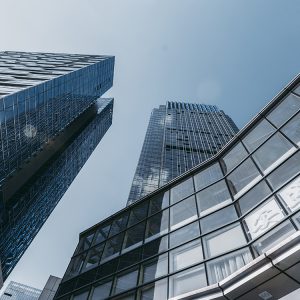 According to records in the history, wood was first used as the rigid component of curtain walls in the 18th century during the Ottoman Empire. With the continuous development of technology, the type of attachments used to position and hold glass panels in place in curtain walls evolved over time. Earlier curtain walls used steel mullions with asbestos or fiberglass compounds to attach the plate glass. Steel mullions were replaced with glass, and silicone sealants were used in lieu of asbestos compounds. Today, modern curtain wall design is considered non-load bearing and nonstructural, which is typically assembled from glass with aluminum frame, and is attached to the building at the floor line where wind and gravitational loads are transferred to the structure through the floors and columns. In many metropolitan areas, massive structural glass curtain walls dominate commercial construction market.
Benefits of Curtain Wall Facades
The use of curtain wall facades applied in commercial building designs has become an enduring trend for a few reasons as below:
1. Natural Lighting
Just as large windows allow natural light into interior spaces, curtain walls can flood the interiors with natural light. When glass walls replaced masonry construction in commercial buildings, the depth and reach of light penetration improved, reducing the need for artificial lighting and consequently, cutting down on lighting bills. Additionally, windowless areas toward the middle of the floor are regarded appealing and usable workspaces.
2. Control of Air Leakage
Aluminum curtain wall system is generally designed to be airtight in most applications. In a properly sealed system, the air barrier is continuous from the glass panel to the mullions and the seals.
3. Control of Rain and Moisture Intrusion
The airtight design prevents rain intrusion that could lead to costly cleanup and repairs. The glass, aluminum and sealant components of a curtain wall do not allow for absorption or evaporation of moisture, keeping moisture out of the interior section. However, the components are corrosion resistant except for some seals, which may degrade if left soaking for some time.
4. Control Heat Loss or Gain
The use of insulating glass in curtain wall installations can improve thermal qualities. A well-constructed curtain wall system can enhance energy efficiency and reduce the costs of heating and cooling in a commercial building.
Maintenance of Curtain Walls
Considering a higher curtain wall cost in construction project, it is suggested that curtain walls should be inspected regularly to ensure the integrity of seals, mullions and the glass itself. Glass replacement and panel repairs should be handled by experienced professionals.
Tel: +86 18202256900 Email: steel@fwssteel.com
相关推荐