Curtain wall facade plays a vital role in the modern buildings today
As it is well acknowledged, the building envelope remains one of the most important exterior elements for building functionality. While curtain wall facade is regarded an elegant component that helps to define the unique architectural aesthetics of the modern buildings today, it also has the critical role related to energy performance and interior function of a building. Especially in some tall commercial buildings, curtain wall facade system can provide two key functions: weather barrier against the environmental factors for air and water infiltration as well as light transmittance to the interior space.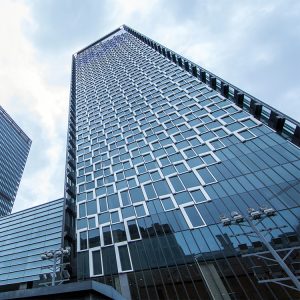 In practical applications, curtain wall system is considered a non-load bearing exterior skin that does not contribute stiffness to the building structure. Key requirements of the curtain wall are to provide/maintain air/water integrity in the cladding system, adequate wind, thermal and seismic response in addition to provide light transmittance to the interior space. The actual constitution of a curtain wall is very important. In most cases, curtain wall is a combination of several system types and combined to express the architectural intent and aesthetically define the building profile. The system schemes may be an all-glazed facade (aluminum framed systems, point-supported systems, cable net systems), an opaque facade (such as precast, natural stone and/or metal panels) as well as a combination of schemes dependent on the building intent. In addition, the curtain wall facade often consists of two sections referred to as the vision area and the spandrel area (i.e. opaque) area in a glazed application. One of the most inherent features related to curtain wall facade is the utilization of aluminum extrusions. This allows a myriad of profile depths and orientations to define the glazed or panelized grid system as seen on a building from an exterior or interior perspective.
In recent years, the application of glass curtain wall in exterior facades in commercial building designs has become an enduring trend for many aesthetic in the modern times. More and more designers and architects prefer glass curtain wall systems to be used in residential and commercial spaces because it makes the office look free and open. Whether you have such a strange feeling if you are working in a modern glass curtain wall building now, the entire attitude of the office can shift. It gives the impression that your business wants to be open and honest within and with customers. As technology continues to improve, different options for improvement become available for incorporation into building facades. These elements are geared toward improvement of the building envelope performance. In spite of a higher curtain wall cost compared with the traditional glass windows in use, when glass curtain walls replaced masonry construction in commercial buildings, the depth and reach of light penetration improved, reducing the need for artificial lighting and consequently, cutting down on lighting bills.
Tel: +86 18202256900 Email: steel@fwssteel.com
相关推荐