How much do you know about curtain wall facade system?
In general, curtain wall facade system refers to a building envelope with glass and aluminum to protect the interior from the elements and also create a relatively safe and comfortable working environment for the building occupants. By definition, curtain wall is an independent frame assembly with self- sufficient components that does not brace the building structure. Curtain walls are designed to only carry their own weight. The wall transfers wind loads to the main building structure, also known as the main wind force resisting system (MWFRS).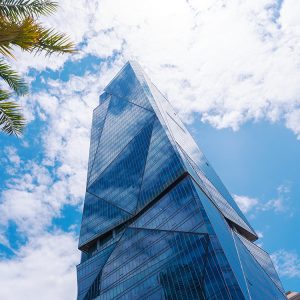 In commercial and similar buildings, the building envelope components, especially, curtain wall generally provides two key functions: weather barrier against the environmental factors for air and water infiltration as well as light transmittance to the interior space. In practical applications, curtain walls tend to span from floor to floor, used in punched opening applications, or span multiple floors, and take into consideration design requirements such as: thermal expansion and contraction; building sway and movement; water diversion; and thermal efficiency for cost-effective heating, cooling, and lighting in the building.
Glass Curtain Wall System Components
Glass curtain wall system is generally comprised of multiple substrates including glass glazing, aluminum framing, stainless steel components, glazing, rubber gaskets, sealant, insulation and metal connections. The vision area allows light transmittance and the spandrel areas are designed to conceal the building floor beam structure and related mechanical elements. While the spandrel area is an opaque area, the architectural community always finds interesting ways to address the aesthetics by making the spandrel area pronounced (e.g. fa?ade element glazing color change, material type change such as granite) or subtly blended as an all-glass fa?ade when viewed from the exterior. To appreciate some of the nuisances in design approach, here are examples of system schemes that adapt two methods for system attachment: captured glazed system and structural glazed system. In order to accomplish this effort, the use of aluminum extrusions provide significant flexibility in design profiles and are limited to the size of the die from which they are extruded or required wall thicknesses.
In practical applications, in spite of the high curtain wall costs compared to the traditional building systems in construction industry, curtain walls do provide many benefits to the buildings in applications. For example, by taking into account the material used when building the wall, there can be energy savings due to reduced heating and cooling loads on the building. And by using glass or other glazings that use an e-coating, temperature inside the building can be regulated more efficiently by the building. As well, glass curtain walls allow more light in, reducing the need for artificial lighting depending on the placement of the wall.
Tel: +86 18202256900 Email: steel@fwssteel.com
相关推荐