Glass Curtain Wall Facade Design
In practical applications, curtain wall facade does not carry any structural load from the building other than its own dead load weight. Glass glazing used for building facades has long been a preferred cladding for designers as a way of opening up the space and bringing the exterior inside.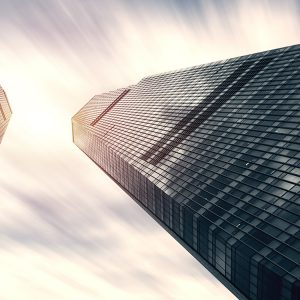 As the glass curtain panels are clear and vertically frameless, they are barely visible. In recent years, frameless glass curtain walls are popular for balcony enclosures because they do not impact the exterior facade of buildings and complement the existing architectural design. Meanwhile, you can enjoy yourself closer to the nature and landscapes around you. Furthermore, the ultra-slim powder coated aluminium top and bottom profiles give vertically frameless glass curtains a sleek and elegant look, adding a classy touch to any space in your home. Glass curtains are virtually invisible and easily complement your existing design. Because they are vertically frameless, you can enjoy unobstructed views all the time, even when they're closed.
Modern glass curtain wall facade design can help to provide the necessary daylight inside a building and also to bring the heat into the built form. For curtain wall buildings, glass is used as infills with metal or UPVC profiles. And the distinctive performance of the glass affects the ingress of heat and light so it is important to use the correct glass glazing for the building facade in a long run. Apart from the aesthetics and obviously the undisturbed views, glass curtain walls can give you a whole host of benefits over conventional framed windows, and add value to your property. For example, glass curtain wall facade design can give you many possibilities to use your balcony, patio or terrace… all year round.
In recent years, glass curtain walls are not exclusive to commercial applications. They also provide viable glazing solutions for residences as well. If you would consider structural glass curtain wall in your building project, your glass curtain wall must ensure the optimal thermal and energy performance which reflects a positive environmental and air conditioning cost impact as well as occupants' comfort and better mood. In addition, by applying advanced finite-element analysis schemes and taking into account structural design criteria, an optimal structural design of the glass curtain wall system has to be carried out to achieve cost minimisation once structural integrity and serviceability requirements have been fulfilled before you would start the curtain wall construction.
Tel: +86 18202256900 Email: steel@fwssteel.com
相关推荐