Modern curtain wall facades have good thermal performance for your building
Recently, various types of curtain wall systems have been used for the exteriors of buildings. In particular, curtain wall frame conductance is one of the important parameters for thermal performance, because of heat loss through the wall. In general, curtain walls have differences in thermal performance depending on the materials used for the frames.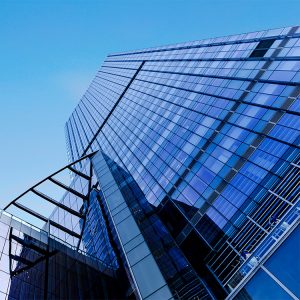 In the current market, aluminium curtain walls are very popular among a variety of applications, for aluminum frames can be produced in any form as designers want and the material enables the construction of lightweight curtain walls. Steel frames are widely used alongside aluminum frames, and they have less deflection than aluminum, so they can handle a larger size of glass. However, both aluminum frames and steel frames have a very high thermal conductivity. This translates into high heat loss through aluminum or steel curtain wall mullions in applications. On the other hand, thermal performance is one of the essential criteria in the modern curtain wall design, considering energy saving and sustainability is one of the hottest topics that we cannot ignore. Glass panels generally have better thermal performance, and the next challenge is to provide an excellent thermal break aluminium system to offer an excellent insulated facade.
In most cases, the thermal performance of glass curtain wall is defined by its U-value, and this measure indicates the energy transmitted through the curtain wall. In other words, the lower the U-value the more efficient is the thermal performance of the glass curtain wall. U-values requirements are clearly stated on the energy consumption regulations. And the available facade technologies allow for improved U-values to achieve higher sustainability goals such as the zero-emissions buildings. In the current market, glazed aluminium curtain walling systems are a quick and cost-effective way of incorporating large areas of glass into a building. What's more, aluminium curtain wall facade can provide high-value energy performance and advanced thermal and security functions for business premises in practical applications.
In addition, by using structural glass curtain wall, you can allow natural light to penetrate deeper into buildings, providing improved ventilation. This also helps to reduce lighting and energy costs. Meanwhile, the wall transfers horizontal wind loads that are incident upon it to the main building structure through connections at floors or columns of the building. In tropical countries, windows and terraces are often shed with big and wide cantilevered canopies or roof extensions. At the same time, cold countries open their south facades to gain heat from the winter sun. In that regard, a well-designed curtain wall facade would have better thermal performance in buildings.
Tel: +86 18202256900 Email: steel@fwssteel.com
相关推荐