How to choose the proper type of frame structures in your curtain wall building project
In the modern buildings, a curtain wall is defined as thin, usually aluminum-framed wall, containing in-fills of glass, metal panels, or thin stone. The framing is attached to the building structure and does not carry the floor or roof loads of the building. The wind and gravity loads of the curtain wall are transferred to the building structure, typically at the floor line. In the recent years, structural glass curtain walls are very popular in commercial applications.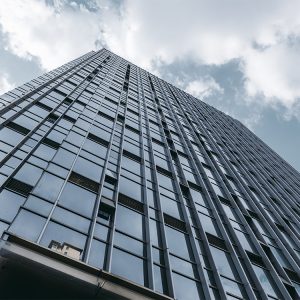 If you would like structural glass curtain walls to be used in your building, the glass can be comprised of monolithic, laminated, dual-glazed or even triple-glazed insulating glass units. The back-up structure may use horizontal and/or vertical aluminum mullions or be a glass mullion, steel blade, cable or stainless steel rod. In most cases, structural glass curtain walls have a completely clean, flush exterior appearance while the interior members have many different options depending on the design and your budget in construction. In addition, modern curtain wall systems require structural supports as strong so that they are versatile so as to keep pace with today's increasingly large free spans, challenging angles, as well as sophisticated glass-clad aesthetics. In curtain wall buildings, a steel profile can be two-thirds the size of a comparable aluminum profile while meeting the same curtain wall performance criteria. Steel's inherent strength allows it to be used in non-rectangular grids, where the length of the frame member might be longer than what is typically required in conventional, rectangular horizontal/vertical curtain wall grids.
Generally speaking, galvanized steel pipe has the rational cost effective in the current market. Galvanized steel pipes have a high structural integrity and also are resistant to corrosion in harsh environments. Tianjin G.P Pipes & Tubes are manufactured as per ASTM standards. Pre galvanized steel pipes & tubes are manufactured from  ½" to 8″. Furthermore, Tianjin galvanized steel pipe can be immediately ready for use when it is delivered. No additional preparation of the surface is required, no time-consuming inspections, additional painting or coatings are needed. Once the structure is assembled, contractors can immediately begin the next stage of construction without having to worry about the galvanized steel materials. Dong Peng Bo Da Steel Pipe Group is a famous steel pipe manufacturer in China. We are committed to producing various types of steel products for your choice in your building project in future. Our products are all designed for the fast and easy installation of curtain walls. Contact us if you have any need in your project.
Tel: +86 18202256900 Email: steel@fwssteel.com
相关推荐