What's structural curtain wall glazing
In the modern times, building envelope / facades finished with glass such as windows or glass used extensively to wrap up the building perimeter is called structural glazing. Structural glazing systems, in their simplest form, are types of curtain wall systems consisting of glass that is bonded or anchored back to a structure without the use of continuously gasketed aluminum pressure plates or caps. The glass can be comprised of monolithic, laminated, dual-glazed or even triple-glazed insulating glass units (IGUs). The back-up structure may use horizontal and/or vertical aluminum mullions or be a glass mullion, steel blade, cable or stainless steel rod. The interior and exterior may use extruded silicone/EPDM gaskets, or a wet sealed silicone depending on the system. This system creates a completely clean, flush exterior appearance while the interior members have many different options depending on your curtain wall design as well as curtain wall cost in construction.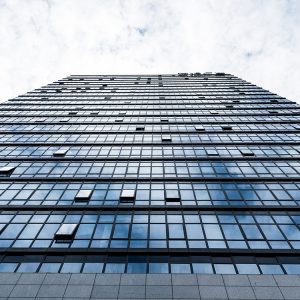 Type of Structural Glazing Systems
According to architectural and functional requirements, there are several popular types of curtain wall glazing in the market as below:
1) Unitized Curtain Wall
2) Semi Unitized
3) Stick Glazing
4) Frameless system
5) Tension systems
6) Skylight glazing and roofs
So why would you like a structural glazing system used in your building construction? In most cases, curtain wall facade tends to provide safety and weather projection for the occupants inside the building. The glazing system can be engineered for structural requirements to perform safety and functional performances. Structurally glazed systems create a greater transparency than traditional captured systems. There are less visual interruptions due to the lack of metal on the exterior (and potentially the interior), creating a seamless, continuous glass look. Traditional captured curtain wall systems have pressure plates and caps that can conduct large amounts of heat in or out of the facade depending on the season. Since there is little to no exposed exterior metal, there is also less thermal bridging with structural glazing, saving on energy consumption costs.
In the current market, structural glazing systems are typically designed with extruded aluminum framing members, although the first curtain walls were made with steel frames. Take aluminum curtain wall system for an example. The aluminum frame is typically infilled with glass, which provides an architecturally pleasing building, as well as benefits such as daylighting. In addition, structural curtain wall glazing differs from a storefront system in that they are designed to span multiple floors, taking into consideration design requirements such as: thermal expansion and contraction; building sway and movement; water diversion; and thermal efficiency for cost-effective heating, cooling, and lighting in the building.
Tel: +86 18202256900 Email: steel@fwssteel.com
相关推荐