Development of Contemporary Curtain Walls
In the modern buildings, curtain walls are very popular widely used as the outermost layer of the building envelope, which is considered your first line of defense against the elements. Especially for glass curtain wall, transparent/translucent glass helps maximize the usage of natural light, always a key consideration in any architectural design.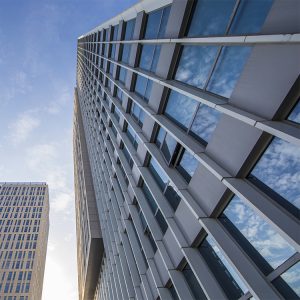 At the beginning of 19th century, there was a gradual changing from the usual load bearing masonry to a framed structural system whose elements were firstly made of steel and later of concrete. This opened potential for replacement of a masonry facade wall with a lightweight transparent facade. The facade on framed structures has no longer a bearing role. In that regard, curtain wall facade has the function of a facade window in applications. In a number of references, the precursor of curtain walls as we know them nowadays is the building designed by Joseph Paxton in 1851 for the Great Exhibition of the Works of Industry of All Nations in London. This exhibition hall, called the Crystal Palace was declared the largest, the best well-lit and the most transparent building of all times. This magnificent building 555.3 meters long, 122.4 meters wide and 33 meters high was completely made of iron and glass, and for its construction was used 93000 m2 of glass, which was built in the walls, domes and vaults of this building.
Development of contemporary curtain walls can be divided into three generations. The first generation is related to the early seventies of the twentieth century and they are characterized by a simple design, whose supporting profiles were made from aluminum. And the installation was performed on the building itself and it was a stick system with apparent horizontal and vertical partition. The second generation of curtain walls was characterized by the protected systems, designed according to the manufacturer recommendations and standard models. Meanwhile, the installation, as in the case of the first generation was performed prevalently in the building applications. Those which were created after 1990 are called the third generation of curtain walls and its main characteristics are: mostly protected or specially designed systems for special uses, with prevalent block systems for larger buildings and stick systems for smaller, with curtain wall structures made of aluminum sections or stainless steel, of a large glazed surface, with special equipment and parts for sealing, whereby prefabricated units are installed on the building.
Tel: +86 18202256900 Email: steel@fwssteel.com
相关推荐