How to choose custom glass curtain wall in your building project
In a sense, custom curtain wall assemblies provide an excellent way to create a true architectural signature on a building. These systems are most often used to make a key statement at the entrance or podium level, and to convey the design language of the building. All architectural design comes with trade-offs. A strong understanding of material options and fabrication limitations can help greatly in keeping within budget targets. The most significant difference in specifying a custom curtain wall versus off-the-shelf systems is the time needed to:
1. understand the design elements requiring a custom system;
2. accurately research the options and qualified suppliers for custom systems;
3. make construction documents that accurately convey project-specific requirements.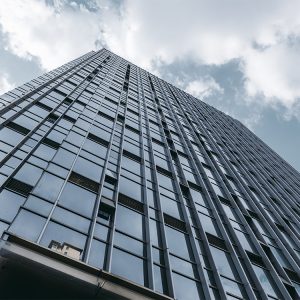 Designing custom glazing systems, such as structural glass curtain walls or unitized curtain walls, can be a complex task that can vary widely from a project to another project. The level of complexity is typically driven by the architectural goals, constraints, and performance objectives. Similar to what a designer must consider with a standard system, performance criteria such as wind loads, wind-driven rain resistance, and thermal performance for the system must be met. In addition, fabrication limits and installation constraints limit what a designer can develop to meet these requirements. With respect to structural engineering requirements, the material choices for interfaces between curtain wall and surrounding walls may define the curtain wall cost and the quality level of those surrounding materials. In addition, the custom wall system manufacturer should have a basic specification that can be modified with this project-specific information, so as to create a specification that accurately reflects an up-to-the-minute understanding of how the wall should be built.
In conclusion, an integrated design, with thoughtful choices of materials (and even manufacturing and installation approaches), can not only manage the expense of the curtain wall, but sometimes also the overall project cost by shortening the required time onsite and other factors. In a word, a custom curtain wall specification is a true team effort, with suppliers, installers, and even surrounding trades contributing to its success. Dong Peng Bo Da Steel Pipe Group is a famous steel pipe manufacturer in China. We are committed to producing various types of steel products for your choice in your building project in future. Our products are all designed for the fast and easy installation of curtain walls. Contact us if you have any need in your project.
Tel: +86 18202256900 Email: steel@fwssteel.com
相关推荐