Tianjin galvanized steel pipes are very popular in the world today
With years of production and processing experience, Tianjin galvanized steel pipe production technology has got more improved and matured in these years. Tianjin steel pipe, by virtue of its own unique natural geographical advantages and many years of foreign trade export business experience, plays an important role in the international steel market. You may be wondering why Tianjin galvanized steel pipes are so popular in the current steel pipe market today.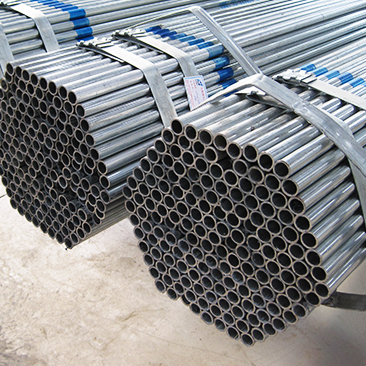 One of the distinctive features of Tianjin pre galvanized steel pipe is that pre galvanized steel pipe has the rational cost effective in the current steel pipe market. Due to its durability and anti-corrosive properties, galvanized steel pipe can recycled and reused, which to some degree save a lot of money during the post maintenance work. For example, Tianjin gi rectangular steel pipe is used widely as a versatile building material, which has led to its inclusion in nearly every stage of the construction process from framing and floor joists, to roofing materials in the society. Furthermore, Tianjin pre galvanized steel tube has excellent quality assurance, as well as a relatively complete range of specifications, which can basically meet the needs in your construction projects in future.
Today, structural steel pipes have been widely used as one of the most important building materials in construction projects. In the current steel pipe market, Tianjin galvanized steel pipe has a large demand around the world for years. In applications, there are a lot of advantages of using Tianjin galvanized steel pipe as structural materials in construction, such as the strength, environmental friendliness, lower insurance premiums, design flexibility as well as recyclability. In the recent years, steel tube manufacturers in Tianjin are committed to providing customized welded steel pipes for users around the world. Tianjin welded steel pipes have a complete range of specifications for your choice.
Tianjin Da Qiuzhuang, a well-known steel pipe production base where you are able to find your satisfactory galvanized steel pipes if you have enough patience and good luck. Tianjin welded steel pipe development has always been a model of peer attention, because of its rich resources and its mature development. In addition, Tianjin galvanized steel pipe has been used for most of the pipelines in the world, for it is not only be easily welded into place flexibly but also can somewhat avoid cracking and breaking under pressure. Furthermore, most of round steel pipes and tube are easy to fabricate, readily available, and cost less than most other metals.
Tel: +86 18202256900 Email: steel@fwssteel.com
相关推荐