How to maintain welded steel pipe used in greenhouse frames
In comparison with the cost of a steel frame greenhouse, PVC frame is considered a very easy, quick, as well as inexpensive way to build a greenhouse. However, a PVC house just isn't going to last a long time. You can reasonably expect to get several years of use out of it, but don't hope for too much. Welded steel pipe as one common member of structural steel pipes has been widely used in greenhouse projects for many years due to its strength and stability in use. Greenhouse frames can be constructed of several different types of materials. If you're building a greenhouse, choosing which type of frame to use will be one of your first decisions.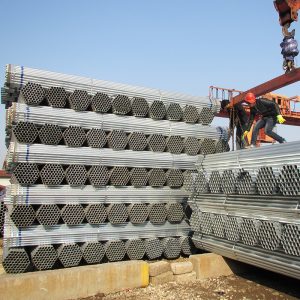 Among all the different materials commonly used in greenhouse frames, welded steel pipe is probably the most difficult to work with due to the hardness of the material. Other materials used for greenhouse frames (including aluminum) are softer, making it easier to drill holes for bolts. As it is well acknowledged, everything has a certain life span over time. Welded steel pipes are no exception. In a variety of practical applications, we can often find a lot of "problems" with steel pipe in use over time. How to protect your steel pipe has been a very significant issue for consideration for a long time. In modern times, as there are a variety of steel products widely applied in various applications, many different surface preparations for steel pipes are employed due to particular requirements of the practical applications in life. For example, steel pipe coatings have been applied to cold rolled steel pipes for decades to increase pipeline longevity and integrity as well as to reduce the maintenance costs.
Pre galvanized steel pipe has been widely used in greenhouse frames today, for it has the good performance of the corrosion resistance and also longer service life. If you choose a galvanized pipe, you can avoid the cost of maintaining and replacing corroded pipes. With galvanized pipe, your pipes can last a lot longer than black steel pipe, which will save you a lot of money in the project. However, it is strongly suggested that users have to pay attention to the rust removal & reinforcement work as well as the proper installation. Besides, it is strongly suggested that users should try to keep the surrounding of the pipes clean, and try to avoid putting pipes and sharp objects together, in order to avoid the unnecessary damages to the pipe body and the surface material wear.
Tel: +86 18202256900 Email: steel@fwssteel.com
相关推荐