Agriculture greenhouse plays a vital role in China's farming today
For a long time, agriculture greenhouse can contribute to reproducing plants out of season, which to some degree, means to give man a measure of control over our nature in farming applications. Specifically speaking, a good greenhouse creates a sheltered environment for plants by using solar radiation to trap heat. This system of heating and circulating air helps to create an artificial environment in a greenhouse that can sustain plants when the outdoor temperature is too cool or variable.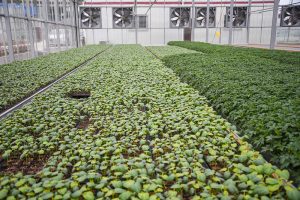 In recent years, solar greenhouses are considered the best structure for growing winter horticultural crops in China, and have been adopted by countries such as Japan, Korea, and Russia in recent years. Increased proliferation of efficient solar greenhouses in China may contribute to solving worldwide problems such as the energy crisis and global climate change. For example, single-slope, energy-efficient solar greenhouses in China use solar energy as the sole source of light and heat for winter crop production in the region between latitudes 32°N and 43°N. The use of solar greenhouses has greatly reduced energy demand and carbon dioxide (CO2) emissions.
In the modern agricultural farming, multi-span greenhouse is considered more energy efficient because it is better at heat retention than a regular single span greenhouse. The high-roofed structures are also more productive and stronger. The tough nature of multi-span greenhouses makes them ideal for areas which often face thunderstorms and other forms of adverse weather. Furthermore, multi-span greenhouses are modular structures, which can be adapted in order to fulfill every space requirement. This line is available with curved and peaked (recommended for snowy areas) roof. This model is the most popular among professional greenhouses for the plant and flower growing industry. It meets all end customer needs in terms of covering and type of opening with tailor-made design and manufacturing.
Today, the development of greenhouse farming techniques has generally resulted in more overall food for the whole world and helped to reduce world hunger problems. Agriculture greenhouses, particularly glass greenhouses are considered helpful in allowing people to buy almost any fruit or vegetable at their local grocers, regardless of whether the food is out of season for many years. And another big plus for greenhouse farming is that it allows people to take advantage of vertical space. Many farmers will have plants sitting in shelves or hanging from the ceilings, and this sometimes allows the farmer to pack more plants in an acre than usual. Greenhouse farming can be more flexible than regular farming, especially when farmers have multiple separate buildings.
Tel: +86 18202256900 Email: steel@fwssteel.com
相关推荐