Multispan greenhouse features in applications
Multispan greenhouse is a kind of economical greenhouse. Multispan greenhouse becomes very popular among users due to the beautiful arc shape and lower cost in applications, which is suitable for most areas in China. Specifically speaking, double-film greenhouse is widely used in the north, while single-film greenhouse is widely used in the south.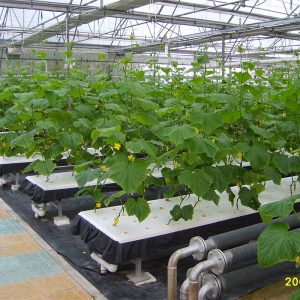 There are many advantages of using multispan greenhouse in your next greenhouse project. For example, the multi-span greenhouse can improve the land use efficiency to the maximum extent, and also build a relatively larger suitable environment for your plant growth, which can effectively improve the input-output ratio. Compared with other common types of agriculture greenhouses in the modern times, multispan greenhouse has some other remarkable features in applications as follows:
1. The greenhouse environment is easy to control. Multispan greenhouse has a larger volume of air, so that the fluctuation of indoor temperature will be reduced to some degree.
2. Higher utilization of land. The problem of a waste of land on the spacing between the single span greenhouses can be overcome in the multispan greenhouses.
3. Flexible partitions. Partition walls are installed inside the multi-span greenhouse which is easy for management in future.
4. More labor saving. In a multispan greenhouse, workers do not have to go back and forth in and out of each greenhouse for production operations as in a single-span greenhouse. In addition, the greenhouse can be more convenient to use forklift, cart and monorail transport equipment to reduce the amount of labor.
In recent years, multi-span greenhouse has gained rapid development in the protected agriculture in China. With the development of science and technology and the improvement of people's living standard, the application of intelligent greenhouse planting has become the inevitable trend of modern agriculture development. In addition, glass greenhouse has made great progress in commercial greenhouses today. There are many advantages of using glass greenhouse in applications, involving large lighting area, uniform light, long service life, and relatively high strength. Furthermore, among all the cultivation facilities, glass greenhouse has the longest service life in use, which has been widely used in many regions under various climatic conditions.
Dong Peng Bo Da Steel Pipe Group is a famous steel pipe manufacturer in China. We are committed to providing various types of steel products for your choice in your project. Contact us if you have any need in your greenhouse in future.
Tel: +86 18202256900 Email: steel@fwssteel.com
相关推荐