What are competitive advantages of Tianjin welded steel pipe in the market
Tianjin as the largest steel pipe production base in the North of China, supplies a large number of various types of steel pipes for many regions across the world. By virtue of its high visibility in the steel pipe market, Tianjin welded steel pipe has a number of competitive advantages compared with other counterparts in the market.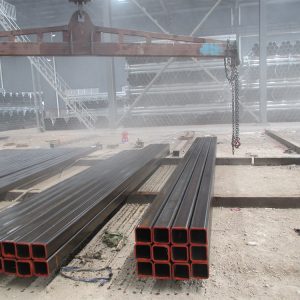 Today, welded steel pipes have been widely used as one of the most important building materials in construction projects. In the current steel pipe market, Tianjin welded steel pipes have a large demand around the world for years. In the current steel pipe market, Tianjin welded steel pipe can be divided into straight seam welded pipe and spiral welded pipe as per different shapes of welded steel pipe. The straight seam welded pipe undergoes much simpler processing method than the spiral welded pipe does. At present, steel tube manufacturers in Tianjin are committed to providing customized welded steel pipes for users around the world. Tianjin welded steel pipes have a complete range of specifications for your choice.
In accordance with the requirement of green development, China's steel industry has increased inputs in capital, talent, technological research and development, and carried out valuable explorations in the new generation of recyclable processes for steel production, green manufacturing, and environmental management, etc. For example, hot dipped galvanized steel pipes generally have the rational cost effective in the current steel pipe market. Due to its durability and anti-corrosive properties, galvanized steel pipe can recycled and reused, which to some degree save a lot of money during the post maintenance work. Testing and studies have revealed that the average life expectancy for galvanized steel used as a typical structure material is well beyond 50 years in a rural environment and 20-25 years or more in an extreme urban or coastal setting. In that regard, contractors can confidently use this product in project.
With many years of production and processing experience, today's Tianjin welded steel pipe production technology has got more improved and matured. There are a lot of advantages of using Tianjin welded steel pipes as structural steel pipes in construction projects, such as the strength, environmental friendliness, lower insurance premiums, design flexibility as well as recyclability. Other advantages of using steel pipes are involved in energy-efficiency, durability, and resistance to water, fire and insect damage. It is believed that Tianjin welded steel pipes would be your best choice in your next project.
Tel: +86 18202256900 Email: steel@fwssteel.com
相关推荐