Tianjin square steel pipes are widely used for building frames today
As we all know, there are various types of steel frame structures for your choice in the market if you are planning a building project in future. In the current steel pipe market, structural steel pipes are very popular, which are relatively easy to expose the building's beauty in a design that will emphasize its grace, strength, transparency, and slenderness.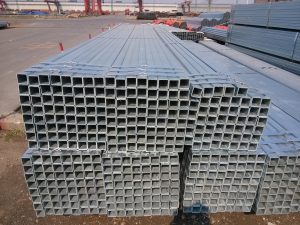 Every year, a large number of Tianjin steel pipes are sold to a variety of parts of the country as well as other regions and countries throughout the world. In the global steel pipe market, Tianjin square steel pipes have not only excellent quality assurance, and also a relatively complete range of specifications. In the current steel pipe market, Tianjin square steel pipes are available in a variety of sizes and grades, which are widely used for a number of frame structures and applications in construction field. In general, square steel pipe is considered as one of common structural steel pipes widely used in construction industry. In the recent years, Tianjin steel pipe manufacturers provide various types of customized square steel pipe, which greatly meets the application needs of different customers. In addition, Tianjin gi square steel pipe production technology has got more improved and matured, which are used in many building types from small storage units to skyscrapers in big cities. For example, they are used to create the foundation of large buildings as well as other framework.
In the global steel pipe market, China hollow section tubes are widely used to create foundation of large buildings as well as other framework in projects In the steel pipe market, Tianjin rectangular steel pipes have become very popular in many forms of construction and other structural & mechanical applications. This has been greatly assisted by the section's inherent flat surfaces making it more economical for joining and other fabrication processes. For example, galvanized steel pipe is often the top choice for scaffolding tubes used in structural applications because of its good anti-corrosion in service over time. Besides, due to its durability and anti-corrosive properties, square steel pipe can be recycled and reused, which to some degree save a lot of money during the post maintenance work.
DongPengBoDa Steel Pipe Group is a famous steel pipe manufacturer in China. We are committed to providing various types of structural steel pipes for your choice. Please contact us if you have any need in you project.
Tel: +86 18202256900 Email: steel@fwssteel.com
相关推荐