supporting point glass curtain wall
As a form of curtain wall building, supporting point glass curtain wall has been applied in various buildings in China for a long time. It is an important expression technique in architectural design. Architects often use the frame-less, concise and transparent features of this curtain wall form to show the charm of architectural works. The crystal clear wall makes the indoor and outdoor echo, and the space is integrated, so that the indoor still life and the outdoor nature are integrated. Because of these outstanding advantages of supporting point glass curtain wall, it has been favored by architects and the society in recent years. This kind of curtain wall often appears in the lobbies, shared Spaces and podium buildings of hotels, office buildings and high-rise buildings in architectural design, which is the face of the whole building. Its structure form from the single rib, double rib, to the development of multiple glass rib, from the single vertical vertical rib to the development of oblique rib, horizontal rib and special-shaped rib. Barge the use of glass rib force span, from the initial development of a few meters to more than 20 meters, even close to 30 meters. Supporting point glass curtain wall really adds color to the facade of modern buildings, enriching the expression method of building facade.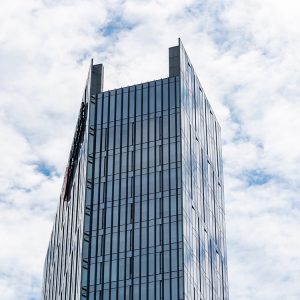 In glass rib of bearing point supported glass curtain wall has been found in practical application, many problems and defects; we can't avoid due to the presence of these which has revealed the weakness of this kind of curtain wall, real-time remind us in glass rib bearing point supported modern curtain wall design and construction of rigorous seriously treat every node in the process of design and construction of the installation. Really do the force of the glass rib clear, chest, to ensure safety. Such as some connecting glass rib supporting glass curtain wall in the installation or use of large area of rib glass damage; The glass rib burst caused by improper connection of horizontal glass rib and vertical glass rib; Glass burst caused by improper design of glass rib joint and rib panel joint of supported glass curtain wall.
On the other hand, the stability and safety of glass ribs after broken glass should be taken into account. In the design of the higher glass floor, in addition to carefully design each connection node, but also fully consider the overall stability of the glass floor. When the glass rib reaches a certain height, its lateral stability needs to be considered. Therefore, the large span of the curtain wall panel in the design should consider its lateral stability requirements, if necessary to carry out stability checking, and take measures such as transverse support or pull.
Tel: +86 18202256900 Email: steel@fwssteel.com
相关推荐