Industrial Steel Pipe
Today, there are various types of steel products available for different applications. Steel pipe has become an indispensable part of social life and production. When it comes to industrial steel pipe, it refers to a broad category of fluid and solid transport hardware used in many applications and industries. Usually cylindrical, pipe and rigid tube is used in process, energy, construction, and many civil infrastructure applications. Industrial pipes and rigid tubes are manufactured from a wide variety of materials for the transport of an equally wide variety of solids and fluids.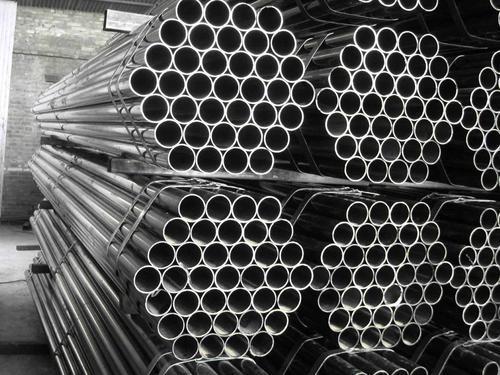 Industrial pipes are manufactured in a wide variety of materials. As most professional steel pipe manufacturers know, common ratings and features assigned to industrial pipes include maximum pressure, temperature range, flexible, lined, plated, flanged, insulated, and underground rated. The distinctive features of industrial pipes made of steel are high tensile property, flexible, e.g, can be designed and fabricated to any height and strength, are easy to install, possess structural reliability, easy to maintain and are corrosion resistant.
Galvanized pipe is usually used as one common type of industrial steel pipe, which has been coated with a layer of zinc. Galvanized pipes offer increased protection against corrosion. Generally, the galvanized coating will corrode first, and not until the zinc is completely corroded will the metal beneath it begin to corrode. This means that the pipe will remain functional for much longer. Furthermore, galvanization is often less expensive than other types of corrosion protection, which make galvanized pipes more cost effective.
Besides, carbon steel pipe is another important industrial steel pipe widely used in a number of industries around the world today. Carbon steel pipe is highly resistant to shock and vibration making it ideal to transport water and other fluids under roadways. The high-tensile strength in addition to its elasticity and ductility allow carbon steel pipes to be used safely under high-pressure conditions. Under abnormal loads, they will bend, not break.
At last, why steel pipe is an ideal option for a various industrial applications mainly depends on its environment-friendly materials in service. Each year more steel is recycled around the world, in comparison with aluminum, plastic, glass and etc. In addition, steel pipes can be made into many dimensions, bent to curve and fit anywhere they need to be. Joints, valves and various types of steel pipe fittings are widely available. Longer lengths of these pipes enable quicker and low-cost installations because of fewer joints.
Tel: +86 18202256900 Email: steel@fwssteel.com
相关推荐