How to look at curtain wall structure used in the modern buildings?
Designing curtain wall frames and panels is a complex task as it involves load transference, thermal insulation, water resistance, ensuring panel adherence to frames, preventing dirt accumulation as well as allowing for windows to be opened. In addition, curtain wall design must comply with local building codes, such as providing safe access for regular inspection, maintenance and repair.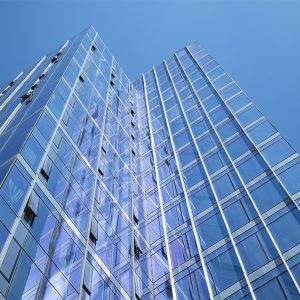 What is Curtain Wall?
In practical applications, curtain wall can protect the interiors and occupants from the outside elements. Curtain wall system is a non-structural cladding system designed to primarily resist air and water infiltration, wind and seismic forces, which is separate from the external wall and only supports its own weight. In other words, being the outermost layer of the building envelope, the curtain wall is your first line of defense against the elements from outside. It is important to contact specialized curtain wall suppliers for professional installation, repair and maintenance in building projects. Besides, high quality materials and professional workmanship will prevent major damages to the exterior and interior surfaces while optimizing their lifespan, property value and appeal.
Common Curtain Wall Structure Materials
-Vision glass – double or triple glazed, with low-e or reflective coatings
-Spandrel (non-vision) glass
-Stone veneer
-Aluminium
-Fibre-reinforced plastic (FRP)
-Louvres or vents
In the current market, unitized curtain walls have become the preferred method for enclosing buildings, as more building owners, architects and contractors see the benefits of this type of construction. Unitized systems allow buildings to be enclosed quickly, which can help to speed up the construction process leading to earlier occupation. The fabrication process for unitized systems is more consistent than for stick-built curtain walls, for unitized wall systems are constructed in almost an assembly line fashion, indoors, and under controlled environmental conditions. Since unitized curtain walls are the current state-of-the-art in curtain wall technology, designers, consultants and contractors alike need to become familiar with these systems' technical limitations, so that we can develop effective designs that address their use for all areas of the building enclosure. There are two types of alignment conditions that must be considered with unitized curtain wall construction:
– Alignment between unitized panels
– Alignment between unitized panels and projecting slabs, canopies and other offsetting structural features of a building.
In recent curtain wall construction, structural glazing systems, especially structural glass curtain wall is very popular both in commercial and residential applications. And this type of curtain wall structure consists of glass that is bonded or anchored back to a structure without the use of continuously gasketed aluminum pressure plates or caps. The glass can be comprised of monolithic, laminated, dual-glazed or even triple-glazed insulating glass units (IGUs). The back-up structure may use horizontal and/or vertical aluminum mullions or be a glass mullion, steel blade, cable or stainless steel rod. The interior and exterior may use extruded silicone/EPDM gaskets, or a wet sealed silicone depending on the system. Moreover, this curtain wall structure creates a completely clean, flush exterior appearance while the interior members have many different options depending on design and budget.
Tel: +86 18202256900 Email: steel@fwssteel.com
相关推荐