Glass curtain wall features in the modern building construction
Glass Curtain Wall
Investing in glass curtain walls allows you to present your property in a unique and interesting way, for glass curtain wall allows glass to be used in large uninterrupted areas creating consistent and attractive facades. as well as gives control over every aspect of the performance, from thermal to solar considerations and ultimately the design statement for the building. In practical applications, curtain wall facade does not carry any structural load from the building other than its own dead load weight. In the current market, glass curtain wall systems are specifically designed to resist strong winds, water infiltration and absorb sway induced by wind.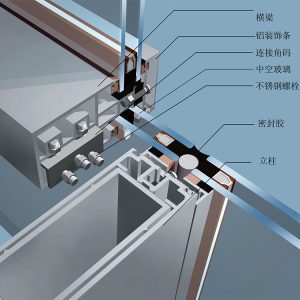 Office Glass Partitions
Office glass curtain generally makes a great addition to any office. If you are looking to create meeting rooms, additional offices or just form divisions within your offices, and these are all options that can be created easily and quickly through the installation of glass partitions. In general, glass partitions are available in a variety of options and for a range of budgets so are a suitable option for nearly all offices. Glass partitions are an ideal practical partitioning solution for all offices, giving a contemporary and modern feel whilst still allowing light to permeate into all areas of your working environment.
Spider Curtain Walling
Spider glazing is a part of the frameless glass curtain wall in applications where they provide a flush external appearance with uninterrupted views. Spider Glazing curtain walls provide maximum daylight for building interiors, as well as the possibility of placing large transparent glass surface as building envelopes. Due to its visual attractiveness such architectural building envelopes are commonly used on commercial buildings to create premium building skills. A wide variety of applications are available including curtain walls, canopies and atriums, allowing maximum transparency and brightness optimisation and unique design.
In short, curtain walls today are typically aluminum frames infilled with cladding of glazing, metal, or stone. Connected to a building's floors or columns, they don't carry the structure but do serve to help keep out air and water, reduce sway, and transfer wind and gravity loads to keep the structure stable. Dong Peng Bo Da Steel Pipe Group is a famous steel pipe manufacturer in China. We are committed to producing various types of steel products for your choice in your building project in future. Our products are all designed for the fast and easy installation of curtain walls. Contact us if you have any need in your project.
Tel: +86 18202256900 Email: steel@fwssteel.com
相关推荐